Fifth of dog owners 'struggling with cost of pet insurance'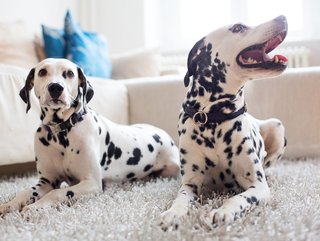 Owners with more than one dog are particularly struggling.
Nearly a fifth of dog owners in the UK are struggling with the cost of their pet insurance as the cost-of-living crisis deepens, new research shows
Nearly a fifth of dog owners in the UK are struggling with the cost of pet insurance, according to research from consumer insights platform QuMind.
Its survey of British dog owners has found that, on average, consumers are spending £28 on dog insurance and a further £27 on vets' bills every month. Now, the number of people struggling to pay for insurers is on the rise. A quarter of dog owners with more than one pet say they can barely afford their pet insurance.
In response many are considering taking drastic action; 17% of those surveyed say they will be lowering their excesses while 11% are considering cancelling their policy entirely.
It is the latest stark reminder of the cost-of-living pressures facing consumers not just in the UK, but in many developed economies. Research from GlobalData has already shown that one in 10 UK pet and travel insurance customers have cancelled their policy to save money.
QuMind recommends that insurers bolster their pet insurance offerings so that they are more rounded, including discounts on dog food brands for example; or follow the example set by the life insurance industry and offer reduced premiums if the dog is fit and active. According to the firm, nearly half (45%) of consumers generally and two-thirds (67%) of younger consumers are interested in using apps to track their pets' wellbeing.
Social media could be 'influential' for insurers
Mark Ursell, CEO of QuMind, comments: "Pet owners are really feeling the squeeze and many are having to look at their insurance policies as a result. The total cost of ownership for a dog is high and, despite recognising the value of insurance, many owners are having to face decisions as to where and how they spend on their dogs.
"Insurers can help reduce the total cost of ownership, offering discounts or rewarding behaviours that reduce the likelihood of that dog requiring medical treatment and ultimately empowering dog owners to retain their pet insurance."
QuMind's research shows that younger dog owners are more likely to have pet insurance, with the cost of unexpected surgical bills or treatments weighing on their mind. Almost 80% of consumers aged 25-34 have pet insurance, compared to just 57% of over-55s, QuMind says. The same group is also more likely to make purchasing decisions based on social media accounts than other generations, it adds.
"Therefore the use of influencers or engaging social media content could be an influential tool for pet insurance providers to use, particularly when promoting the additional services and discounts that their customers have indicated that they want and need," QuMind concludes.