Hong Kong insurtech OneDegree secures more Series B funding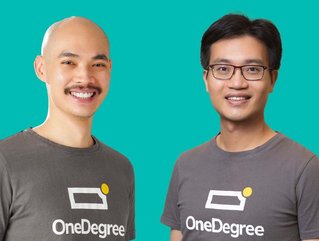 OneDegree founders Alex Leung (left) and Alvin Kwock hailed the latest fundraise.
Hong Kong insurtech OneDegree, which mainly offers pet insurance and home insurance, has nearly doubled its Series B funding with another round of capital
Hong Kong-based digital insurance company OneDegree has secured an additional US$27m in Series B funding, taking the total for this round to US$55m.

It's similar to the amount the company raised almost two years ago, as part of the first tranche of Series B cash, when OneDegree US$28m in Series B.
The company, which is best known for pet insurance and home insurance, says the fundraising comes "on the back of strong revenue growth across all business units" as well as "market-leading innovations in digital assets insurance and generative AI-enabled insurtech solutions".
OneDegree has seen monthly revenue rise by fourfold, driven by strong organic growth in direct-to-consumer (D2C) products – including pet, fire, home and medical insurance. The growing company has also improved its loss ratios by around 40%, it says, which it describes as "a clear path to achieving profitability" by the end of next year.
In April 2022, the company signed a partnership with Munich Re to launch OneInfinity, a direct insurer for digital assets that mirrors the rising popularity of crypto and NFTs.
OneDegree will use the latest funding to broaden its product offering, expanding into new insurance lines and doubling down on its existing D2C products.
OneDegree 'gets strong backing in challenging environment'
Writing on LinkedIn, Alvin Kwock, Co-Founder and CEO of OneDegree Group, says: "We have successfully achieved product market fit, which is testament to the team's relentless focus on delivering customer-centric products. We have also demonstrated the scalability of our technology-driven business model, as reflected in our operational and financial metrics
"It is a real seal of approval to receive such strong backing from the market during this challenging fundraising environment. We're delighted to welcome new investors and strategic partners in this latest closing, alongside our three largest existing institutional investors who also participated."
Alex Leung, Kwock's fellow co-founder, continues: "We are incredibly proud of the strides we have made in a short span of time. Our strong growth in the digital assets insurance space reflects the industry's trust in our pioneering capabilities and expertise. With the integration of Microsoft's Azure OpenAI into our IXT and Cymetrics solutions, we are not just staying ahead of the curve but shaping the future of the insurance industry.
"Through relentless innovation and collaboration with global partners, we remain dedicated to empowering both traditional and digital insurers and contributing positively to the insurance ecosystem."
Thomas G. Tsao, Co-Founder of Gobi Partners, which continues to back the Hong Kong-based digital insurer, adds: "Our continued investment in OneDegree Group underscores our confidence in their robust team, sustainable operations, and relentless innovation. Their expanding presence across Asian markets and beyond signifies the vast potential of their pioneering insurance solutions, promising a bright, global future."
What is it with pet insurance?
It might feel like pet insurance is having a 'moment' right now. This insurance line can date its history back over a hundred years to working animal insurance, but it took a long time for it to become an established part of our lives.
Our furry friends are often considered indispensable parts of the family, so it's easy to understand why consumers are so keen to protect their pets. Yet, for a long time, pet insurance suffered from the stigma that it wasn't worth the cost. As more people have taken out pet insurance policies, that perception is beginning to change.
In a challenging economy, pet insurance can be a double-edged sword; consumers think they can ill-afford it, leading to policies not being renewed, but at the same time few pet owners have the funds to cover an unexpected vet's bill or the cost of surgery if something happens to their cat or dog.
OneDegree's Pawfect Care policy features no sublimits, up to 90% reimbursement rate, plus an annual coverage of up to HK$80,000 (US$10,200).