Top 10 pet insurance startups and insurtechs
Pet insurance provides cover for your furry – or not so furry – companions.
For pet owners, taking out pet insurance is a smart move that covers you against unexpected costs and bills. Here are 10 of the most successful providers
As pet owners, we love and care for our animals – and there are now more pet owners in the world than before the COVID-19 pandemic. According to the European Pet Food Manufacturers' Association (FEDIAF), there were 92.9mn dogs and 113.5mn cats in Europe in 2021 – up from 77.4mn and 106.4mn respectively in 2019. Repeated lockdowns and long periods of time spent indoors prompted many consumers to seek out furry companions.
But, as the cost of living pinches, what to do when you're faced with an unexpected vet's bill is a perpetual problem for pet owners. That's why, over the last couple of years, we've seen a rapid increase in the number of pet-focused insurtechs. To celebrate this growing line of insurance, we've picked out 10 of the biggest pure-play pet insurtechs with publicly available fundraising data, and sorted them by the amount they've raised.
Total amount raised: US$483mn
ManyPets (formerly known as Bought By Many) is a London-based pet insurtech that was founded by Guy Farley and Steven Mendel in 2017. The company is found in the UK, Sweden (one of Europe's big pet insurance markets and the originator of the concept of pet insurance), and in 2021 expanded to the US. It had already launched in 40 states, accounting for 85% of the American pet insurance market, by the time ManyPets acquired insurance carrier Digital Edge to support its US expansion. Its June 2021 Series D funding round secured US$350mn in funding, generating a total valuation of $2bn and cementing its place as one of the most successful pet insurance upstarts on our list.
Total amount raised: $171mn
Santévet is a provider of pet insurance services in France and Belgium, which this year celebrates its 20th anniversary in business. The company offers a range of pet health insurance products covering illness, accident and prevention for dogs, cats, parrots and small mammals. It has been majority-owned by London-based Columna Capital since 2017 and, a year ago, raised €150mn from the investment firm to support its expansion throughout Europe – including launching in Italy, the Netherlands, Portugal and Austria and strengthening its existing presence in Germany and Spain. The move will allow Santévet to become a dominant player in the European pet insurance space.
Total amount raised: $138mn
Trupanion is a Seattle-based pet insurer founded in 1998 by Darryl Rawlings, whose family experienced the trauma of being unable to afford a routine medical procedure for their dog when Rawlings was a child. The experience motivated him to set up Trupanion, which insured its first pet – Rawlings' own dog – in the year 2000. Such is the company's growth, it took 20 years before it hit the $1bn milestone in terms of veterinary invoices paid yet just another three years before doubling that amount, hitting the $2bn milestone earlier in 2023. Today it insures more than 800,000 pets and offers some features that other pet insurance plans do not, such as cover for dietary supplements.
Total amount raised: $47mn
DogVacay is not strictly a pet insurance provider, but instead allows owners to book professional dog walkers, pet boarders and pet sitters. It also provides both parties with premium pet insurance to cover the length of each booking and daily photo updates while an owner is away, giving them added peace of mind. The company had raised $47mn from top-tier venture capitalists by the time it was acquired in March 2017 by Rover – a company with a similar focus on dog sitting, which said it would retire the DogVacay app and brand.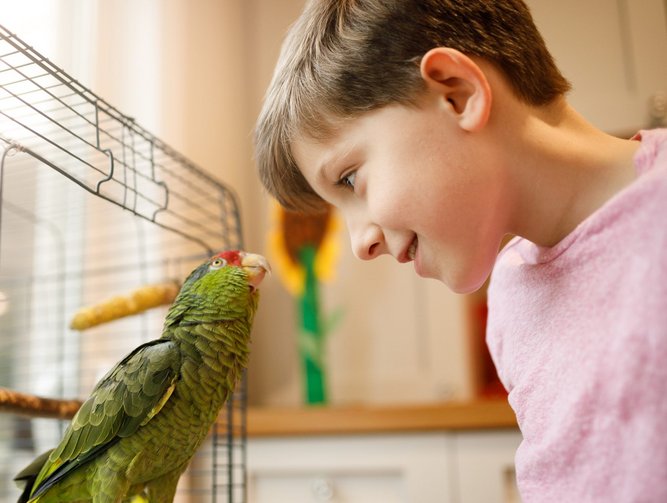 After cats and dogs, birds are Europe's most popular pet.
Total amount raised: $20.9mn
This UK-based pet insurtech is doing things a little differently: it offers comprehensive cover suitable for the entire lifetime of a pet, including cover for accident and illness, dental work, behavioural treatment and even travel abroad. It also offers a wide range of perks included in its pet insurance plans, such as live advice from pet experts and free video consultations with UK-based vets. Despite only being founded in 2021, it is already reaping the rewards of its early success; in November, the UK pet insurtech startup Napo raised $17.7mn in a Series A funding round backed by leading investors. To date, the insurtech has already provided cover for more than 35,000 pets.
Total amount raised: $19.6mn
The cleverly named Pawlicy Advisor is a New York-based insurtech that allows pet owners to compare the price of pet insurance and uncover hidden savings. In just five minutes, users can fill out a simple form and receive 100+ pet insurance quotes from the main brands, with personalised side-by-side comparison that allows pet owners to choose the right provider for them and their companion. The company says that around 2.5mn dogs and cats in the US have pet insurance, but with an estimated 150mn dogs and cats in total, that leaves a penetration rate of less than 2% – far lower than European countries. This underlines the size of the market opportunity for pet insurtechs. Pawlicy Advisor was founded in 2018 by entrepreneurs Woody Mawhinney and Travis Bloom. To date, the pair have raised nearly $20mn in funding including a $12mn Series B round in 2022.
Total amount raised: $18.4mn
Parisian pet insurtech Dalma is a rapidly growing provider of insurance for cats and dogs, launched in April 2021 by Alban de Préville, Raphaël Sadaka and Harry Belinga. Its digital insurance offering covers animals for veterinary bills with no excess, with costs paid out in 48 hours and preventative costs like vaccines and dewormers covered up to €200. It is already proving popular within the market; two years after its inception, the startup has insured over 30,000 animals; boasts nearly 80 employees on LinkedIn; and last June Dalma became the latest pet insurtech to seal Series A investment, raising €15mn towards the development of a new consumer-facing app.
Total amount raised: $18mn
Based in Chicago, Figo Pet Insurance describes itself as "pet insurance designed by pet people". Emerging out of the 1871 tech incubator a decade ago, Figo offers cover for cats and dogs with a couple of unique extras such as coverage for pre-existing conditions, lightning fast claims that usually close within three days, and live access to qualified vets around the clock. The company has paid nearly $90mn in vets' bills and recruited a team of 140 employees, nearly 90% of whom, Figo says, are pet owners themselves. In October 2021, the company earned the recognition that its success deserved: Figo was acquired by the US pet insurance platform of JAB Holdings, with Figo becoming a wholly owned subsidiary of PetPartners.
Total amount raised: $18mn
Back to Europe now, where an eclectic mix of pet insurtechs are making the pet insurance landscape very interesting. Swedish startup Lassie was founded in 2020 and named after the iconic film character, with an aim to offer 'prevention-led' pet insurance. It offers cover for cats and dogs, while the Lassie app provides personalised recommendations to help keep your animal in peak condition. The insurtech is 100% digital with free video consultations with vets and coverage starting at eight weeks of age. Unlike some other insurers, Lassie also covers liability damage for clumsy mutts and mogs, insuring up to €10mn's worth of valuables with a zero-deductible option as well as up to €3,000 per year in rescue costs. In May 2022, the Swedish pet insurtech completed an €11mn round led by Felix Capital.
Total amount raised: $6mn
Founded in 2019 and based in San Francisco, Fursure is a mobile banking app designed for pet owners. It includes a branded debit card that provides rewards, which can be redeemed against vet care costs. It also offers users discounts and perks on things like pet food, toys, dog grooming and kennel boarding. Fursure also offers pet insurance price comparison, which provides pet owners with personalised recommendations and connects them to big-name pet insurance providers including Figo, Nationwide and Petplan. It is quick and easy to use, providing coverage online in as little as a few minutes.