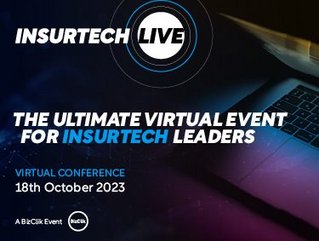 Below, see Part 1 of our consolidated highlights from the day's action
We round up the highlights from InsurTech LIVE, our one-day event that saw all areas of the insurtech world come together under one virtual roof
Featuring a series of remarkable guest speakers, panelists and keynote contributors, InsurTech LIVE came to a close on 18 October 2023.
Fear not, those who couldn't make it on the day – you can still register and catch up on everything you missed by following the link HERE.
Below, see Part 1 of our consolidated highlights from the day's action.
Embracing InsurTech: Revolutionising strategies for future success
In his keynote speech, AXA Global Healthcare's Frederick Bisbjerg discusses a balanced approach to the relationship between insurance incumbents and insurtechs, to drive a successful future for both.
While admitting that innovation in insurance is overdue, Bisbjerg notes that the pace at which insurance works differs from the fast-paced, rapidly scaling approach seen at insurtechs.
So, while insurers need to enhance their digital transformation efforts, insurtechs need to understand the slower operating models in which incumbent insurers operate, tailoring solutions accordingly so the best outcome for incumbents and insurtechs can be met.
InsurTech: When things go wrong
Marsh's Assistant VP Rupert Poland, and SVP of FINPRO Alex Phillips, joined InsurTech LIVE to discuss when things can go wrong for insurtechs.
This includes understanding regulatory nuances in different markets. Marsh data reveals that on average, regulators are the second most likely bodies to take out a claim against an insurer after customers – a result of unwitting regulatory breaches from the insurer/insurtech.
The pair outline five areas where the risks for insurtechs may be different than for incumbent insurers, saying insurtechs need to carefully consider their reliance on third parties, regulatory changes across different markets, AI, fraud, and cybersecurity.
Third parties (incumbents) usually supply insurtechs with capacity for their products – so should anything change with an incumbent, this could put an insurtech at risk. Compliance in all territories is something insurtechs need to carefully consider, particularly when it comes to AI and cybersecurity.
Navigating the InsurTech landscape: Unlocking success through effective strategies
Chief Information Officer at Ripe, Andrew Harrington, discusses the importance of using technology, data and know-how, to make buying insurance a simpler process.
Harrington claims that as AI and other technology solutions proliferate multiple industries, internal processes will become faster, smarter and better.
The success of any insurtech, as far as Harrington is concerned, is to remain ahead in the insurtech landscape, staying at the forefront of digitalisation and the latest innovations.
Customer-centric InsurTech: Enhancing engagement for a seamless and personalised insurance experience
Rounding up the morning session of InsurTech LIVE was Meeri Savolainen, Founder of insurtech INZMO.
In her keynote, Savolainen discusses ways AI can enhance traditional risk models, including helping improve data analytics, predictive analytics, personalised underwriting, automated underwriting, claims processing, risk mitigation, fraud detection, and regulatory compliance.
Notably, it is the speed at which AI can enhance the policy-issuing process that makes it a must as we head into the digital age. It gives insurtechs and incumbents a better understanding of risk, enables better personalisation, promotes greater operating efficiency, better fraud prevention and detection, and manages risk more proactively.
For more from our speakers, make sure you click the link HERE to catch up on all the latest insights from the inaugural InsurTech LIVE.
******
For more insights from InsurTech Digital, you can see our latest edition of the InsurTech Digital here, or you can follow us on LinkedIn and Twitter.
You may also be interested in our sister site, FinTech Magazine, which you can also follow on LinkedIn and Twitter.

******
BizClik is a global provider of B2B digital media platforms that cover Executive Communities for CEOs, CFOs, CMOs, Sustainability Leaders, Procurement & Supply Chain Leaders, Technology & AI Leaders, Cyber Leaders, FinTech & InsurTech Leaders as well as covering industries such as Manufacturing, Mining, Energy, EV, Construction, Healthcare + Food & Drink.
BizClik – based in London, Dubai, and New York – offers services such as Content Creation, Advertising & Sponsorship Solutions, Webinars & Events.