InsurTech LIVE speaker: CTO at AXA Frederik Bisbjerg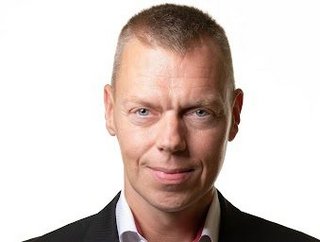 Join us at InsurTech LIVE on 18-19 October 2023 where we get industry-leading insights from AXA Global Healthcare Chief Transformation Officer Frederick Bisbjerg
Who is InsurTech LIVE's upcoming guest speaker, Chief Transformation Officer at AXA Global Healthcare, Frederik Bisbjerg?
The ultimate virtual event for every insurtech leader, InsurTech LIVE is coming your way on 18-19 October 2023.
Covering the latest digital strategies, climate risk, customer engagement, generative AI and women in insurtech, InsurTech LIVE offers exclusive access to an impressive lineup of industry-leading voices.
One such speaker is AXA Global Healthcare's Chief Transformation Officer (CTO) Frederick Bisbjerg. But who is Bisbjerg, and how has his career path taken him to one of the world's leading insurers?
AXA Global Healthcare CTO, Frederick Bisbjerg
Born in Denmark, Bisbjerg is today a renowned international business developer, with a bank of experience in leading digital transformation and business model innovation.
A believer in empowering business leaders to enact change strategies, Bisbjerg lives by the manta "the art of the possible", as he continues to lead digital-first corporate strategies and C-level consulting activities.
With a wide-ranging career, Bisbjerg has been based in the Middle East since 2013, where he has worked as EVP for Qatar Insurance Group, the largest composite insurer in the MENA region.
He has also been SVP of Digital Transformation & Innovation at Daman National Health Insurance, transforming it into a digital-first, flexible and resilient insurance company.
And, at SOS International, Bisbjerg established companies in China and expanded the travel claims and emergency assistance provider's Asian operations.
Today, as well as being AXA Global Healthcare's CTO, Bisbjerg is a member of Business Insitute Denmark and holds the position of Head of MENA and Digital Transformation specialist with The Digital Insurer, the world's largest knowledge base on digital insurance with more than 35,000 active members.
At The Digital Insurer, Bisbjerg is part of the world's first mini-MBA in digital insurance, where he lectures on leading industry themes including big data, best practice tech architectures as well as strategy and transformation.
A highly-sought after keynote speaker and industry expert, Bisbjerg joins our ever-growing InsurTech LIVE speakers list, which you can find HERE.
Looking to take part?
If you want to take part in InsurTech LIVE, click HERE to get access to your FREE pass, and join our global audience for this two-day exclusive virtual event delving into the present and future of all things insurtech.
And for the chance to showcase your values products and services to partners and customers alike, click the link HERE to become a sponsor at InsurTech LIVE 2023.
You can contact a member of our team today to discuss sponsorship opportunities.
******
For more insights from InsurTech Digital, you can see our latest edition of the InsurTech Digital here, or you can follow us on LinkedIn and Twitter.
You may also be interested in our sister site, FinTech Magazine, which you can also follow on LinkedIn and Twitter.
Please also take a look at our upcoming virtual event, InsurTech LIVE, coming on 18th-19th October 2023.
******
BizClik is a global provider of B2B digital media platforms that cover Executive Communities for CEOs, CFOs, CMOs, Sustainability Leaders, Procurement & Supply Chain Leaders, Technology & AI Leaders, Cyber Leaders, FinTech & InsurTech Leaders as well as covering industries such as Manufacturing, Mining, Energy, EV, Construction, Healthcare + Food & Drink.
BizClik – based in London, Dubai, and New York – offers services such as Content Creation, Advertising & Sponsorship Solutions, Webinars & Events.