Cover Genius and HomeToGo in vacation rental partnership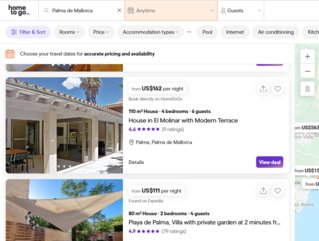 A new partnership between Cover Genius and HomeToGo will bring the convenience of embedded insurance to the holiday let marketplace
Embedded insurance company Cover Genius has announced a new partnership that will see embedded insurance products extended to the holiday rental market.
HomeToGo, which was founded in 2014 and is based in Berlin, offers one of the world's largest selection of holiday retinal properties – from houseboats and secluded cabins to entire castles for rent. To coincide with the winter season, HomeToGo is integrating with XCover, Cover Genius' global insurance distribution platform, allowing users to add insurance at checkout when they book their vacation rental.
The partnership will initially focus on popular winter destinations in Europe including Austria, France, Germany, Italy, Switzerland and the Netherlands. It follows hot on the heels of Cover Genius' oversubscribed US$70mn Series D funding round last November, which it promised would go towards rapid expansion of the XCover platform.
Insurance 'seamlessly embedded' when booking
Patrick Andrae, Co-founder & CEO of HomeToGo, says: "Protection for rentals is especially relevant in today's landscape – having been underpinned by trends coming out of the pandemic, flexibility remains top of mind for many customers. For example, our own survey data shows that 54% of respondents purchased travel protection within the last year, indicating a consumer appetite for increased flexibility. We're excited to partner with Cover Genius to offer protection that is seamlessly integrated into the rental experience."
Angus McDonald, Co-founder & CEO of Cover Genius, adds: "There is a massive opportunity for short-term rental sites that interact with both sides of the marketplace (renters and hosts) to offer convenient, customer-centric protection throughout the entire rental journey. We're honoured to help HomeToGo, the world's largest vacation rental marketplace, offer peace of mind to its customers with tailored protection that is seamlessly embedded in the booking path."
Research published by Cover Genius last month revealed the appetite among consumers for embedded property insurance: the New York-headquartered firm found that almost all hosts want short-term letting sites like Airbnb and Booking.com to offer embedded insurance as part of their checkout flow, driven mainly by the convenience it would offer.
Yet there is still a shortfall in provision of embedded insurance opportunities: of the 15,000 homeowners, landlords and tenants surveyed by Cover Genius, two-thirds (67%) say they were not offered insurance as part of their last application process. In light of that research, the partnership with HomeToGo will clearly be seen as a coup for the insurtech, and a chance to close the embedded insurance gap.