Swiss insurer Helvetia partners with Qover on car insurance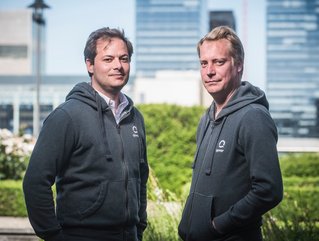 Qover was founded in 2016 by Quentin Colmant (left) and Jean-Charles Velge.
Swiss insurer Helvetia has partnered with Belgian embedded insurance company Qover to help deliver better programme rollouts in car insurance
Swiss insurer Helvetia has chosen embedded insurance company Qover as its insurtech partner, as it seeks to reshape the European automotive insurance sector.
The collaboration between the two firms will see the introduction of the industry's first truly pan-European automotive insurance offer, which will be supported by Qover's modular embedded insurance platform.
It is "a new era" for Europe's automotive insurance sector, the two companies say in a statement. Unlike the traditional multi-local model, the so-called 'Freedom of Services' approach will aim to address the complex nature of automotive insurance, which is littered with rigorous regulations and market-specific requirements.
Qover will aid Helvetia to deliver programme launches quickly and seamlessly, and to provide customers with a "unified" user experience. Qover's platform offers a comprehensive suite of services tailored to insurers, brokers and automotive businesses. This encompasses API-based integrations, user acquisition funnels, automated eligibility checks, configurable pricing engines, B2B dashboards, data insights and analytics, and dedicated customer care.

It is the latest success story for the Belgian startup, having raised US$30m in Series C funding in July and received full FCA authorisation in the UK earlier this month.

Qover partnership lets Helvetia 'set a new standard'
"Helvetia International Automotive is a pioneering and innovative ecosystem for the automotive and mobility industry, providing OEMs and customers with the answer to their expectations and requirements," says Tilo Schroiff, Head of Helvetia International Automotive.
"Partnering with Qover to develop pan-European motor insurance allows us to set a new standard in responsiveness and adaptability, ultimately benefiting both our partners and their customers."
Quentin Colmant, CEO and Co-founder of Qover, adds: "This partnership with Helvetia marks a significant milestone for Qover. Together, we're not just changing the landscape of European automotive insurance – we're redefining it.
"Our modular platform is designed to deliver tangible value to our partners, ensuring they can offer seamless, customer-centric insurance solutions. This collaboration embodies our commitment to innovation and excellence in embedded insurance orchestration."
******
For more insights from InsurTech Digital, you can see our latest edition of InsurTech Digital here, or you can follow us on LinkedIn and Twitter.
You may also be interested in our sister site, FinTech Magazine, which you can also follow on LinkedIn and Twitter.
Please also take a look at our upcoming virtual event, InsurTech LIVE, coming on 18 October 2023.
******
BizClik is a global provider of B2B digital media platforms that provides executive communities for CEOs, CFOs, CMOs, Sustainability Leaders, Procurement & Supply Chain Leaders, Technology & AI Leaders, Cyber Leaders, FinTech & InsurTech Leaders as well as covering industries such as Manufacturing, Mining, Energy, EV, Construction, Healthcare, and Food & Drink.
BizClik – based in London, Dubai, and New York – offers services such as Content Creation, Advertising & Sponsorship Solutions, Webinars & Events.