Embedded insurance company Qover raises $30m to fuel growth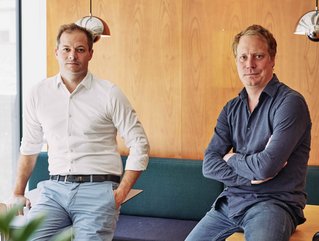 Qover was founded in 2016 by Quentin Colmant (left) and Jean-Charles Velge.
Qover, which provides a means for non-insurance brands to embed insurance products, has raised US$30m in Series C funding to help turbocharge growth
European insurtech Qover has raised US$30m in Series C funding to help accelerate growth and push it one step closer to profitability.
The Brussels-based insurtech, which specialises in embedded insurance orchestration, will use the money to fuel further growth, launch more successful partnerships, and close the gap to sustainable profitability.
Earlier this week, the company announced its latest partnership with digital bank Monzo to embed insurance products directly into the app. Other noteworthy companies using Qover to embed insurance at the point of sale include ING, Monese, Revolut, Fisker, and Volta Trucks. In fact, the insurtech already provides digital insurance through its partner companies to 2.5m users across 32 European countries.
The Series C funding includes investors such as Anthemis, Alven, Kreos Capital and Zurich Global Ventures. It is the company's largest funding round to date, eclipsing the US$25m in Series B funding that Qover raised in 2021. The latest fundraise brings the total amount generated by the business to around €70m.
Qover 'excited about opportunities' post-funding
Quentin Colmant, CEO & Co-founder of Qover, says: "We are thrilled to announce the completion of our Series C funding round, which brings us one step closer to achieving our growth and profitability goals. Our commitment to transforming insurance experiences has been unwavering.
"Our ability to navigate and quickly adapt to the changing tech landscape has been instrumental in attracting top-tier clients and investors. We are incredibly proud of what our team has accomplished. With their resilience as our driving force, we're excited about the opportunities that lie ahead as we continue to push boundaries and shape the future of insurance."
As Qover grows, it is continuing to add new features to its digital insurance offering. Last year, it rolled out bike insurance cover to four new countries and in March launched a 24-hour claims payment feature that it said will "provide policyholders with payments faster than ever".
Qover is targeting the fast-growing embedded insurance marketplace, which is predicted to become a US$3tn market opportunity globally by the end of this decade.
Will embedded insurance replace standalone cover?
Speaking to InsurTech Digital at Money20/20 Europe in Amsterdam, Qover's Chief Revenue Officer, Parker Crockford, explains the size of the market opportunity ahead: "I think embedded insurance has the possibility to really disrupt insurance and fulfil what insurance could be, which is creating a private social net that helps people buy their insurance at the point of transaction in a seamless way.
"Will it change the way we do it in standalone [insurance]? I don't think so, because still the most important thing is the risk carriers and the trust that consumers have in them. But I think the price comparison websites and some of the ways that consumers go out and do that, some of those pieces may become challenging when it becomes a much more seamless, integrated process. For example, you could buy a car and insure it in that same time, which will make it a much smoother and less complicated process."