Steadily bags $28m funding to overhaul landlords' insurance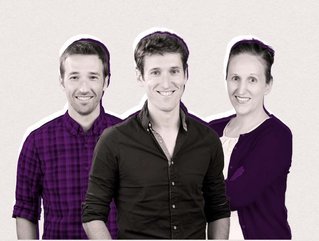 Steadily was founded by (from l-r) David Tulig, Darren Nix and Datha Santomieri.
US insurtech Steadily has raised US$28m in funding to change the process of buying landlords' insurance for the US' 18m rental property owners
US insurtech Steadily, which provides landlord insurance, has raised US$28.5m in Series B funding, practically doubling the total amount it had raised to date.
The funding adds to the US$31m of funding that Steadily had already announced – including most recently a US$16m Series A round two years ago. The new investment was led by Zigg Capital with participation from Matrix Partners, Koch Real Estate Investments, Clocktower Technology Ventures, and Nine Four Ventures.
Steadily will use the money to enhance its mobile experience, introduce new technology such as embedded IoT devices, and generally work towards lowering landlords' exposure in a bid to keep premiums down.
How big is the market for landlords' insurance?
Once considered a niche line, the market for landlords' insurance has grown in recent years as the size of the rental market increases. According to the US Department of Housing and Urban Development (HUD), there are 19m rental properties in the US containing 49.5m rental units.
This is an increase on 2018, the last time HUD carried out the research: back then, there were 20m rental properties in the US (1m more than today) but only 48.3m rental units (1.2m less than today), suggesting a trend towards generally larger buildings. Indeed, in the latest survey, about a third of units contain more than 150 other rental units – compared to 30% back in 2018.
When Steadily emerged from stealth in 2020, it predicted the market was worth an estimated US$38bn.
In terms of ownership, HUD's research also shows that 38% of all rental units are owned by individual investors while 40% are owned by limited liability corporations or partnerships. The growth of the private rental market has coincided with more and more young Americans being unable to afford their own property; the average US house price has gone from US$374,600 at the beginning of 2018 to US$497,300 at the end of 2021. In the same time period, wages increased by half that.
How Steadily meets landlords' insurance needs
Steadily was founded by a team of insurance experts and rental property investors with a mission of providing landlords' insurance to rental property owners that is fit for the modern age. The company – which is dual headquartered in Austin, Texas and Overland Park, Kansas – has been growing by more than 300% year-on-year.
One way it is securing success is through embedded insurance, which allows it to seamless integrate its insurance offerings into the broader real estate ecosystem. What's more, its direct-to-consumer model makes it as easy as possible for landlords to take out policies – including going to the extent of pre-filling many data points like a property's size and year of construction based on existing information.
Datha Santomieri, Co-Founder of Steadily, says: "As property investors ourselves, we understand the unique challenges and needs of rental property owners. Steadily has built an intuitive digital platform to empower landlords with insurance quotes online in minutes, 24/7, from the palm of their hand in all 50 states.
"Our product is built to deliver an exceptional customer experience at every touch point, enabling real estate investors to easily access insurance at all stages of their customer lifecycle. The ongoing support from our investors enables Steadily to continue scaling quickly to meet the growing demand of our product with investors nationwide".
Dave Eisenberg, Co-Founder and Managing Partner at Zigg Capital, continues: "When it comes to real estate, the category has been slower to evolve, and insurance in specific has a reputation for outdated processes and lacklustre service. Clients are demanding a more modern experience from their insurers and Steadily has proven itself a standout leader in this space."