New frontier: Skyrisks works with Quotech on eVTOL insurance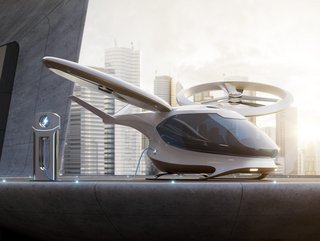 A vision for the future: the AAM sector will require insurance for autonomous aircraft.
MGA Skyrisks is using Quotech's technology platform to insure eVTOL aircraft in the AAM sector, such as flying taxis and autonomous delivery drones
Will the future of our cities be flying taxis and cargo drones? It's a vision that's been mooted for decades, but a combination of regulatory hurdles and technological setbacks have slowed things down. Now two insurance industry players are experimenting with a new type of insurance that could future-proof our cities for such a spectacle.
Newly incorporated London-based firm Skyrisks is teaming with Quotech – which creates technology platforms for underwriting and broking teams – to provide insurance coverage for the rapidly growing Advanced Air Mobility (AAM) sector.
This sector includes emerging technologies like vertical take-off and landing (eVTOL) – so that's flying taxis and autonomous delivery drones. AAM also includes a broad array of innovative technologies for both piloted and autonomous flight. The two firms say it's "changing the game both for passenger and cargo loads in a range of commercial, private, and military operations".
If AAM is to be the future of urban mobility, then operators will need insurance behind it. Skyrisks, which is backed by capacity from Convex, has adopted Quotech's Underwriter Workbench to manage the insurance process for this high-tech frontier.
Quotech gives Skyrisks the exact data they need
"AAM risks are diverse and data-intensive, so we need an underwriting approach that puts all the information at our fingertips," says Alistair Blundy, Skyrisks' Chief Executive Officer. "We have adopted a data-driven approach to AAM insurance that enables us to develop first- and third-party insurance products as innovative as our client's businesses. Quotech's platform lets us concentrate our efforts on the complexities of each risk by streamlining the underwriting process."
Guillaume Bonnissent, Chief Executive at Quotech, adds: "We are delighted to be working with Skyrisks, the first MGA to focus exclusively on this leading-edge area of transportation and logistics. Our workbench product eliminates multiple pain points from the underwriting process by preparing and presenting precisely the data needed in exactly the right place and time.
"Whether customers are underwriters, brokers, actuaries, claims managers, or others in the risk sector, the power of Quotech to assess risks and support pricing, analyse portfolio exposures, source capacity, create audit trails through fully integrated modules, and reliably automate other dull daily functions is unsurpassed."
******
For more insights from InsurTech Digital, you can see our latest edition of InsurTech Digital here, or you can follow us on LinkedIn and Twitter.
You may also be interested in our sister site, FinTech Magazine, which you can also follow on LinkedIn and Twitter.
Please also take a look at our upcoming virtual event, InsurTech LIVE, coming on 18-19 October 2023.
******
BizClik is a global provider of B2B digital media platforms that provides executive communities for CEOs, CFOs, CMOs, Sustainability Leaders, Procurement & Supply Chain Leaders, Technology & AI Leaders, Cyber Leaders, FinTech & InsurTech Leaders as well as covering industries such as Manufacturing, Mining, Energy, EV, Construction, Healthcare, and Food & Drink.
BizClik – based in London, Dubai, and New York – offers services such as Content Creation, Advertising & Sponsorship Solutions, Webinars & Events.