VP of AXA's Climate School talks carbon neutral strategies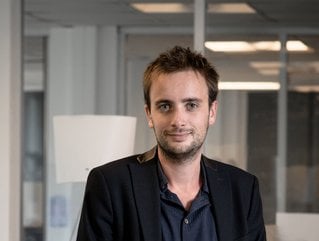 Antoine Poincare
Antoine Poincaré is the Vice President of The Climate School, the e-learning arm of sustainable insurance company AXA Climate
Antoine Poincaré is Vice President of The Climate School, the e-learning arm of sustainable insurance company AXA Climate. Now a year old, The Climate School is helping companies such as Unilever, Schneider Electric, Accor and Ubisoft up-skill their staff on the transition to a more sustainable future.
Tell us about your role and how you got there. Is there a story to tell?

My background is in digital learning, where I focused on educating corporates on supporting their organisation's digital transformation.

As that became more established, I heard that AXA was looking for somebody to launch a training business. I was immediately intrigued, as that was unusual for an insurance company, but was beyond excited to discover that it would specifically be sustainability training.

The sustainability crisis is an existential one for us all, and the relative absence of an "at scale" learning offer on sustainability made this a job I just had to take.
What is the purpose of The Climate School and how is it initiating change?

The purpose is twofold.

First of all, we know that following the Paris agreement, the business world needs to move fast, and we want to play a leading role in scaling up sustainability training at speed to reach the masses.

Secondly, we want to progress sustainability training to the next level. For a long time, sustainability training at work was telling people to ride their bike to the office or to use a refillable cup in the cafeteria. Now, the climate crisis is reframing the whole of business as we know it to operate within planetary boundaries. To do that, brands and their workers need to understand what those boundaries are, and the scale of change that is needed to do so.

We are here to explain to employees how big the change is, and how to scale to meet it.
What is the Climate School's connection to the WEF and how is this helping to deliver the message of ESG policy?

We don't have any specific connection to the World Economic Forum.

We do, however, closely follow the excellent content that the WEF produces on the future of work, and I'd recommend leaders look at it for ideas on how the economy is changing.
How receptive has the marketplace been to The Climate School? Better than expected?

Very much so. After just a year and a half of operation, we are in front of 4 million users - which is well ahead of schedule. Our project entered the market at just the right time, when sustainable transition rightfully became a high priority on a lot of business decision maker's agendas.

We've also seen a lot of great feedback about the high quality of our training content, in particular. We interview a lot of scientists, a lot of business experts, and work with instructional designers, journalists and writers alike so that the quality of the content is interesting and engaging.

Crucially, we're also simple to deploy, because we go straight into your existing L&D platform and integrate easily with the way businesses want to work.
What challenges is the insurance industry facing in terms of climate right now?

A huge challenge for sustainability transformation is what we call 'the tragedy of the horizon' (it was coined by Mark Carney when he was Governor of the Bank of England).

Nobody (in most businesses) sees a horizon outside of the immediate five years (at most) in front of them. As a result, no financial product is really able to price a risk that may occur beyond this period. Climate risk and biodiversity loss typically fall into this.

Insurance is affected by that, obviously, but it does also stand out as an industry that, by its very nature, tends to think long term. This was crystallised a few years ago when the CEO of AXA attracted a lot of attention by saying "a world at +4°C isn't insurable". Recent weather issues have also led to a better appreciation of risk and the premiums people need to pay.

Insurers are responding by adding professional services and consulting with clients around prevention and risk management specifically related to the climate crisis. Continuing to do that across the industry is the challenge, and the Climate School is an example of that.
Recently, satellite technology innovations have taken the climate risk insurance space to a new level. But are we seeing general providers adopting new practices too?

There has been a lot of thinking in all industries about digital transformation, but the difficulty with its role in insurance has been that for a long time, it didn't change the product itself; you still had insurance for your car, for your home, or whatever. You might be adding a nice way to interact with your insurance company online, but the products remained the same.

Now, with satellites and the ability to do what we call 'parametric insurance', we can use satellites to monitor the states of risk factors like soil dryness, wind speeds, temperatures etc, and the industry is rolling out automatic payout based on those triggers, without having to conduct things like site visits.

All of a sudden, satellites have reshaped providers' practices across the board. It's truly a turning point.
What's new on the agenda for next year and the following year?

Our mission remains to be helping companies to adapt to the climate crisis, and accelerating the sustainable transformation of businesses.

This year and next, we want to help our clients move even further, into the emerging field of 'regenerative' business models.'

That's a complicated topic, but it's basically the idea that the planet is now in such a bad state, reducing your impact will not be enough and we're going to need to find ways to operate that actually regenerate the non-human aspects of the ecosystem we live in like water, soil, CO2, etc.

Businesses will need to adapt from models of harm reduction to actually building new business models that make them a part of the overall climate solution as well.

Helping companies to adapt and accelerate their sustainable transition, with an end goal of regenerative business, is the journey we want to help companies on.