UK Digital Insurer Getsafe Announces Europe Expansion Plans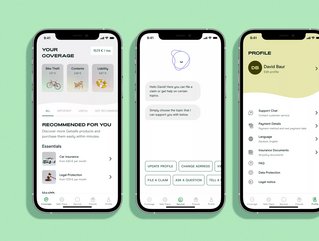 Getsafe's new offerings will include expansion into the home insurance market as it launches a wider portfolio range to reinforce its position
Getsafe, one of Europe's leading neo-insurers, has announced its latest expansion plans following a 12-month period of intense growth and fundraising with investors.

In 2021 the insurtech raised a large Series B financing and obtained an insurance licence. Since then, the UK-based insurtech's customer base has expanded to more than 300,000.
As part of the growth, Getafe also invested in its technology and introduced several new functionalities.

Getsafe plans to increase its product range in the UK by launching home insurance later this month. Together with partners, the insurtech provides products for disability and pension insurance and will add to its health solutions portfolio range later this year.
Getsafe expansion is initially focussed on Berlin
Those features include customers now being able to track the precise status of their claim in real time. The feature has proved popular with more than 30% of Getsafe's customers using the app every month – more than any other insurer in Germany.
According to reports, Getsafe's positioning has been boosted by strong growth in Germany and the UK. The insurtech notified the German regulator BaFin last month that it would expand its operations to markets in France, Italy and Austria.
"As we look ahead, our internationalisation strategy is to continue deepening our footprint in core European markets," Christian Wiens, CEO and founder of Getsafe, explained. He said, "Thanks to our platform, we are able to enter a new market within months." Getsafe currently employs 170 people at its headquarters in Heidelberg and two offices in London and Berlin.
Furthermore, Getsafe is also providing its customers with a high level of service at a comparatively low price. According to reports, over 90% of all interactions are automated and carried out without any human intervention.
Getsafe reinforces its position as one of Europe's leading neo-insurers
The company has also said it is consolidating its position as Europe's leading neo-insurer. Wiens said, "Last year was a turning point. We have proven the robustness of the business model and are growing faster than expected both at home and abroad. In 2022, we will further accelerate this growth."
In 2021, Getsafe announced its goal to become the contact point for all people looking for a fully digital solution for insurance. The company's early years were mainly focused on creating the technological infrastructure needed to achieve this. As a result, all steps of the value chain, from the offer to the conclusion of the contract to the settlement of claims or cancellation, are managed in real time through the Getsafe website or mobile app.
Wiens continued, "From day one, our insurer started with a purely digital claims centre. This allows us to process claims faster than is usual in the market – we settle 90% of claims in less than five days. The demand for life insurance from Getsafe customers has really exploded since the launch in January. This makes us confident that we can build a strong digital life and health insurer in Europe."
Expansion for Getsafe boosted by the pandemic
Data shows the pandemic has had a direct impact on the growth of Getsafe because it has accelerated the adoption of digital insurance solutions. The insurtech's executives say that in light of current geopolitical and economic uncertainties, social security has become more relevant to domestic populations.
They also believe that the Millennial generation has a greater sense of personal responsibility and accountability in terms of long term provision because they have realised that they need to provide for their old age themselves and cannot only rely on state pensions. Additionally, the financial crisis and issues such as that involving Wirecard has eroded general trust in banks and traditional insurers.
Wiens said; "Digital-savvy target groups are used to doing everything via smartphone – this includes banking as well as investments and financial security. Neo-brokers focus on mobile, transparent solutions to help customers participate in economic growth; neo-banks enable mobile financial services; and neo-insurers target people who also want to take out and manage insurance and pension products via their smartphone."
He added, "Together, neo-banks, neo-brokers and neo-insurers have stepped up to ensure that generations Y and Z do not fall through the cracks."