Karen Lynch: Blazing a trail for the Health insurance sector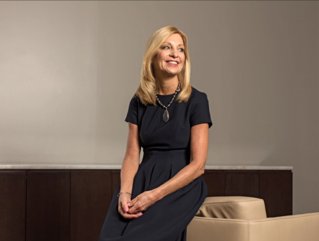 Karen Lynch
Karen Lynch is the President and CEO of CVS Health – a leading US health insurance provider. In 2021, she was the top ranking female CEO in the Fortune 500
As the President and CEO of CVS Health – one of the largest health insurance providers in the US, Karen Lynch is a well-known figure on the State-side insurance industry scene.
Born in Ware, Massachusetts, in 1963, her story is one of triumph over adversity and the importance of family support in a crisis.
The American businesswoman – who is currently CEO and President of CVS Health – heads up one of the top 10 fastest-growing companies in the US and was named in 2021 as the highest-ranking female CEO on the Fortune 500 list.
This fact makes the journey of her career, from humble and tragic beginnings to a world-class business leader, all the more impressive.
A tragic childhood
Raised in a single-parent home, when she was just 12 years old, Lynch's mother took her own life, leaving her adolescent daughter and three siblings as orphans. Just four short years later, when Lynch was 16, her aunt – who had become a guardian for the children in the aftermath of their mother's death – was diagnosed with terminal lung and breast cancer, leading to her premature death.
But, in the face of such overwhelming sadness, tragedy, and upheaval, Lynch was a hard-working, diligent student. She attended Ware Junior and Senior High School, graduating in 1980.
After that, she moved on to Carroll School of Management at Boston College, where she earned a bachelor's degree in Accounting and became a Certified Public Accountant (CPA). Once graduated, Lynch began a financial career in the Boston office of Ernst & Young, where she decided to specialise in insurance.
Her decision to enter that space was heavily influenced by the grief of her early years. She once told an interviewer: "When you have those personal events happen reasonably early in your life, I had that mission and passion to be able to help transform how people transform healthcare."
Thirty years climbing the insurance ladder
Lynch spent the first decade of her career working in insurance, but then returned to education to complete an MBA. This was a deliberate decision to expand her skills and broaden her financial background to provide her with the tools necessary to run a company.
The move paid off, and, in 2004, Lynch was appointed president of Cigna Dental, a global health insurance service company.
By 2005, Lynch was promoted to a newly-created position that combined leadership of Cigna Group Insurance and Cigna Dental. But, in 2009, she felt ready to tackle new challenges and left to become president of Magellan Health Services.
Just three years later, Lynch joined Aetna as its Executive Vice President and Head of Speciality Products. Within months, she had led the merger between Aetna and Coventry Health Care, an industry-first, in that it was the largest healthcare acquisition at that time.
An industry leader
By now, it was perfectly clear that Lynch was a force to be reckoned with in the global insurance industry, and she was made Aetna's first female President.
When Aetna was acquired by CVS Health in 2018, via a US$70bn deal, she retained the role and subsequently led CVS Health through the storm of COVID-19 the former leader, Larry Merlo, retired.
This is despite the fact that, in 2019, Lynch suffered a serious accident where she flew over the handlebars of her bicycle onto a cobblestone street while on a cycling trip in the Netherlands. The event caused a broken hip and hand, and damaged her ribs. Lynch flew back to the US for surgery to pin her hip back together and used the hospital stay to view, first-hand, the customer experience offered by CVS.
Awards and accolades
Lynch is a member of the Business Roundtable, the World Economic Forum Global Coalition for Value in Healthcare Executive Board, and, in 2022, was named by Fortune as the most inspirational CEO.
Karen was also awarded an honorary Doctor of Commercial Science from the University of Hartford in 2022 and an honorary doctorate of humane letters from Becker College in 2015.
Family life
Lynch married Kevin Lynch in 2018. He is the Founder, President, and CEO of the Quell Foundation, a non-profit organisation with a mission to remove the stigma around mental health and reduce the number of suicides, overdoses, and incarceration of those with mental illness.