Top 10 most valuable lines of insurance worldwide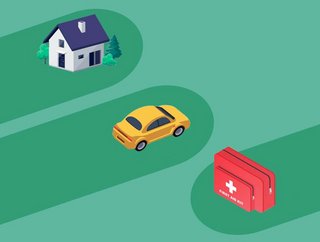 There are multiple lines of insurance – including car, home and health.
These are the 10 most valuable lines of insurance globally, bringing in trillions of dollars in insurance premiums every year
We humans are possessive, protective creatures. Whether it's our own mortality or the gadgets we fill our homes with, if we can lose it we insure it. Doing so gives us peace of mind that, in the worst-case scenario, we're protected against damage, theft or loss. But it also creates a multi-trillion-dollar industry with several vastly lucrative lines of insurance.
So, what exactly are the world's biggest lines of insurance by market value? We've done the research and, with a little help from some of the top market research companies, we're able to count down the Top 10 most valuable lines of insurance worldwide.
1. Health
Health insurance is comfortably one of the largest lines of insurance globally, and it's easy to see why. Along with the second entrant on this list, it protects the one thing we hold dearest above most others – our very place on this spinning globe. The health insurance market was worth US$2.6tn in 2021, according to Vantage Market Research, but it's expected to grow in size to $3.3tn by 2028. For obvious reasons, the market for private health insurance is largest in countries where there is no widespread taxpayer-funded or state-subsidised healthcare service; that's why the US has the largest health insurance market in the world.
2. Life
Life insurance is another vital line of insurance, and it's often one of the first things we think of when we go through a big life moment – like getting married or having kids. Life insurance premiums globally amount to €2.5tn, according to Allianz's Global Insurance Map, and the life insurance sector has become more popular in recent years due to fears over the COVID-19 pandemic. Allianz's data also shows that, in 2021, a number of mature life insurance markets experienced solid growth as consumers protect themselves against the increased risk of mortality. These include a 14% rise in Brazil; a 9.7% increase in India; an 8.8% rise in the US; and a 12.5% increase in Italy. On top of this, affluent European countries also saw a dramatic uptick in life insurance: Sweden, Norway and Finland all registered year-on-year growth in the region of 30%.
3. P&C
P&C – or property and casualty – is such an all-encompassing term that it's plain to see why it's one of the biggest lines of insurance. It includes cover for common possessions, accidents and injury – including building insurance, home contents insurance, personal injury and more. There are at least $1.8tn of P&C premiums worldwide today, and this number is expected to reach $4.3tn by 2040, according to Swiss Re. It's possible these figures might be distorted slightly because other lines of insurance further down this list, such as car insurance, are often grouped in with P&C. Nevertheless, we thought it relevant to include them in their own right anyway.
4. Auto
Car insurance (also called motor insurance or auto insurance) is another of the big lines of insurance. There were $745bn in premiums in 2020, according to GlobalData, with an expected compound annual growth rate (CAGR) of over 4% between now and 2025. McKinsey states that car insurance accounts for over 15% of global P&C premiums. Being insured to drive is mandatory in virtually all jurisdictions, so it's no surprise that the largest car insurance markets are those where car usage is most prevalent: according to Hedges & Company, North America has 0.71 vehicles per capita followed by Europe with 0.52, South America on 0.22, the Middle East on 0.18 and Asia-Pacific with 0.14 vehicles per capita.
5. Professional liability
We're now beginning to drill down into the more niche lines of insurance. With a market value of $43bn in 2021 – more than 15 times smaller than motor insurance – the professional liability or indemnity market covers professionals at work against accidental damage, negligence, malpractice or loss resulting from their work. It is particularly popular among self-employed or freelance workers who don't have a direct employment relationship with the company they're working for. According to Proficient Market Insights, the market for professional liability insurance is set to reach $55bn by 2028.
6. Workers' comp
On a similar note, workers' compensation insurance (often dubbed 'workers comp') is a type of workplace insurance that covers staff against personal injury or disability if they're involved in an accident. The market for workers' comp insurance was worth $43bn in 2021 and was estimated to grow to $45.8bn last year, according to Fitch Ratings. The average cost for all claims combined in 2019-2020 was just over $41,000, the National Safety Council says. Workers' comp insurance is usually taken out by the individual, with different policies usually covering any liability on the part of the employer, and it is mandated in some states.
7. Cyber
As the internet has ballooned over the last couple of decades, the need for a new type of insurance has emerged. Cyber insurance covers businesses and organisations against loss or damage resulting from cyber attacks, data breaches or other nefarious activities. It is currently worth between $8-10bn in premiums, according to Fitch Ratings, but that could increase to $22.5bn by 2025. The US is the largest market for cyber insurance, with $5bn in statutory direct written premiums and 74% annual premium growth.
8. Renters
With a growing number of people in developed economies being unable to buy their own property, renters' insurance is becoming increasingly popular. In part, it is an alternative to security deposits; instead of providing a lump sum up front that is then squirrelled away, renters are paying a monthly premium that pays out if they cause accidental damage to the landlord's property or furnishings. This reduces the likelihood of disputes when the renter moves out of the property at the end of the tenancy. It's difficult to establish exactly how much the global market is worth, but S&P estimates the potential renters' insurance market in the US is about $8bn in size.
9. Pet
The best way to describe pet insurance is that it's health insurance for our furry friends. Pet insurance covers cats, dogs and other domestic animals against the cost of unexpected vets' bills, surgery and other expenses. It might also include preventative measures like vaccinations, treatments and even the cost of rescuing and retrieving animals up to a certain limit each year. It is still a fairly new concept; it emerged from farm animals' insurance in Sweden in the 1890s and only reached the US in the 1980s at the height of Lassie's fame. The pet insurance market was worth $4.5bn globally in 2020 but could reach $16.8bn by 2030, predicts Allied Market Research.
10. Crypto
Another new line of insurance, crypto insurance offers security for the cryptocurrencies that people hold – something that is particularly important, given the volatility in the market and the sheer number of criminals looking to get their hands on other people's crypto. The launch of crypto insurance has been driven by interest in protecting these digital assets, with 16% of Americans saying they have invested in or traded cryptocurrencies at some point. The market was worth $1.49bn in 2020, Allied says, with a projection of nearly $5bn by the end of this decade.