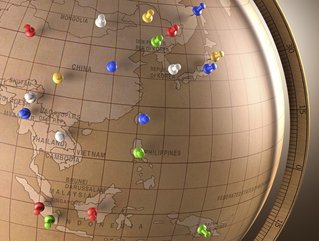 Asia is littered with world-leading financial centres – but which ones make our list?
What are the best cities in Asia for insurtech, and which city has the most number of insurtech startups locally? We have found out
There is a clamour, globally, to be thought of as a hub for business and finance. Mayors, governors and local councillors like to spend their time championing industry while national governments incentivise inward investment with tax breaks and sweetheart deals.
So who exactly are the big hitters when it comes to insurance and insurtech? We've crunched the numbers and come up with a list of the 10 insurtech hubs in Asia.
Despite its relatively diminutive size (Taiwan is roughly 19 times smaller than Texas), this island off the southeastern coast of China has developed for itself a fairly impressive reputation as an insurtech hotspot. Most of the insurance and insurtech-related activity on the island is concentrated around its capital city, Taipei, where roughly one third of the Taiwanese population lives. The island is no stranger to insurance: it is home to some large legacy insurers, mainly in the life insurance space, including Cathay Life Insurance and Taiwan Life Insurance.
The Thai capital is a bustling metropolis of more than 10m people – and it's also home to an up-and-coming insurtech scene. Perhaps the city's most highly regarded success story is Sunday, a full-stack insurer that is using artificial intelligence and machine learning to simplify and personalise the insurance process. The City of Angels is home to a number of finance and insurance events that help reinforce its position as a centre for insurtech, including Money20/20 Asia and the Thailand InsurTech Fair.
The Indonesian capital, located on the island of Java, is the largest city within the ASEAN bloc of countries and is also home to the association's secretariat. The city's insurtech startups have been backed to the tune of more than US$420m, according to industry database Crunchbase. The most well-backed include Halodoc, a health-tech app that connects patients with doctors and insurers; Qoala, a digital insurance platform that makes it easier to find insurance cover; and PasarPolis, an online insurance comparison portal.
The largest city in Malaysia by a comfortable margin, Kuala Lumpur is home to nearly 20 insurtech startups, according to Crunchbase. Perhaps the most recognisable name among them is PolicyStreet, which aims to make it simpler for Malaysian consumers to renew their car insurance and has received almost US$25m in funding to date. In its last Doing Business report before it was discontinued, published in 2020, the World Bank ranked Malaysia as the 12th best country globally for doing business – the fourth best placing for an Asian nation.
Apart from expats, Korean is barely spoken outside the peninsular – a similar story to many of the countries featured on this list. In many cases, this gives rise to a need for insurtech solutions in the local language – and Seoul, the dynamic capital of South Korea, is no exception. The city is steeped in tradition yet technology-forward, which is reflected in the number of global brands based in the city; the Korean tradition of chaebols is carried forward in the likes of Samsung and LG, helping create a local economy worth almost US$400bn. South Korea was also listed as the fifth best place to do business by the World Bank, the third highest Asian country on the list.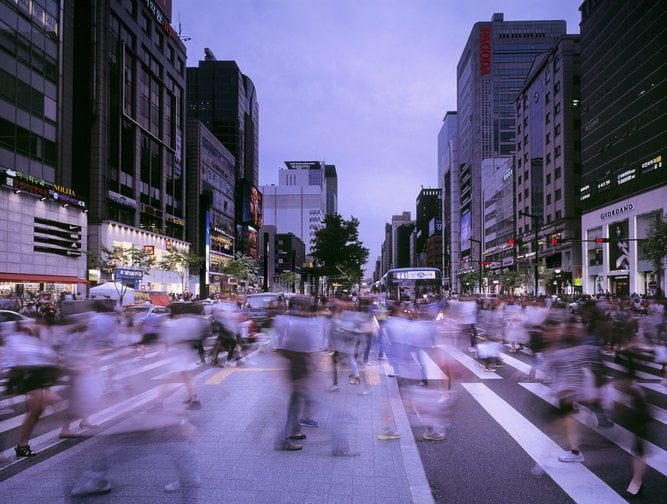 Seoul has a storied history of chaebols – family-owned conglomerates
Take a flight two hours east of Seoul and you'll end up in Tokyo, the iconic capital of Japan. This sprawling urban centre is renowned for its love of technology, efficient rapid transit and its many cultural traditions. Japan is naturally varied and diverse; the northernmost and southernmost points of this rich country don't look like the same continent, let alone the same country. Its economy is pretty similar, covering everything from agriculture and aquaculture to high-tech. Tokyo-based companies include Rakuten and SoftBank – but from an insurance perspective, Tokio Marine is probably its most famous export.
We have two more rich and varied countries for you now, starting with India. When it comes to Indian insurtech, there are a number of cities with a claim to fame: Bengaluru arguably has a more prominent reputation as a centre for IT and technology services, but Mumbai is the bigger city, home to 8m more people and almost double the number of insurtechs. Indeed, according to Crunchbase, there are 15 insurtech startups based in Bengaluru but 32 in Mumbai and neighbouring Thane. Special mention has to be given here to Gurgaon, a financial and technological hub city adjoining New Delhi which, despite its relatively small size, boasts a dozen insurtech startups of its own.
According to the journalist Charles Custer, "in Shanghai, people will tell you Beijingers are arrogant and uncouth… in Beijing, on the other hand, they'll tell you that Shanghai people only care about money". This good-natured rivalry is indicative of the competitive spirit that exists between China's two largest and most significant cities. From an insurtech perspective, Shanghai – which is often regarded as the country's economic centre – has Beijing beaten, but not by much. There are apparently 21 insurtech startups in China's largest city compared with 19 in the national capital, Crunchbase says.
We're firmly into the territory of long-established financial heavyweights now, with Hong Kong taking the second spot on our list of Asian insurtech hubs. Formerly a British colony, Hong Kong's background in finance and banking has given it a headstart in the insurtech stakes. Perhaps the most famous of the city's insurtechs is OneDegree, a digital insurance platform that concentrates on pet, home and health insurance. OneDegree, and companies like it, can draw on a deep talent pool: Hong Kong is home to three of the 10 best universities in Asia, according to Times Higher Education, and the state consistently ranks for its high proficiency in English.
We started small and we're ending smaller; Singapore is almost 50 times smaller than Taiwan, and over three times smaller than Hong Kong, but from a financial and insurance perspective the country is massive. The city state's glamorous marina is home to some of the largest companies in the world, and insurtechs here include Bolttech, which was recently valued at US$1.6bn, and Igloo, which has facilitated more than 300mn digital insurance policies to date. Singapore is the best country in Asia to do business, according to the World Bank, and is home to another two of Times Higher Education's best universities in Asia – Nanyang Technological University and the National University of Singapore.