Opkit launches new health insurance verification platform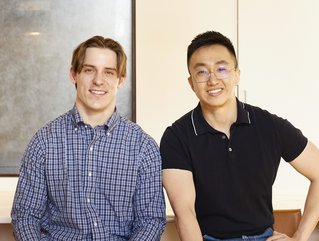 Opkit co-founders Sherwood Callaway (left) and Justin Ko.
Insurtech startup Opkit has launched a health insurance verification platform, whose main plus-point is the ability to automate various functions
Opkit, a US-based insurtech startup backed by some of the biggest names in insurance, has launched an automated health insurance verification platform purpose-built for telehealth companies and healthcare providers.
The New York-based startup is backed by Global Founders Capital, Y Combinator and Mischief – Plaid founder Zach Perret's fund – as well as Socially Financed and former a16z partner Rex Salisbury. Opkit is seeking to simplify the burdensome process of collecting health insurance details and verifying coverage for US healthcare providers, including telehealth firms, whose operating model makes the process inherently more difficult.
Opkit claims its new platform can save an hour or more and allows providers to verify a patient's health insurance details in just a few clicks. Opkit's software automates most steps and automatically repeats the process for existing patients prior to follow-up appointments. A range of eligibility-related features have also been automated, including determining whether a patient's insurance plan is active, in- or out-of-network, and whether it includes benefits such as copays and deductibles.
In part, Opkit will be seeking to capitalise on the telehealth market, which is projected to grow at a compound annual rate of 24% between now and 2030, as well as the telemedicine market, which has already reached 80% adoption and is fast becoming the go-to for prescription medications and minor illnesses.
Opkit 'reduces burden for next-gen healthcare providers'
"Telehealth companies are caught between a rock and a hard place when it comes to insurance," says Sherwood Callaway, CEO and Co-Founder at Opkit. "Patients want to use their health insurance to cover rising healthcare costs. They will forgo services that don't have coverage. But for telehealth companies, accepting insurance is a huge operational burden.
"Opkit's platform makes the insurance verification process faster, more accurate and more efficient so practitioners can scale their operations and give patients better visibility into pricing and fees. Everyone wins."
Fellow Opkit Co-Founder and CTO Justin Ko adds: "Telehealth is an entirely new business model that stands to make healthcare more inclusive, accessible and affordable. But providers need updated tools that are built for a virtual care environment. That's why we built Opkit – to reduce administrative burden for this next generation of healthcare providers."
Reshma Khilnani, a healthcare startup founder whose current company is integrated with Opkit, continues: "Opkit fills a critical need that has only become more important as telehealth has become universally accepted. Understanding the eligibility status of a patient as quickly as possible is key for telehealth companies to manage their day-to-day operations, collect payments and grow."