InsurTech LIVE: Meet Generali's Stefano Bison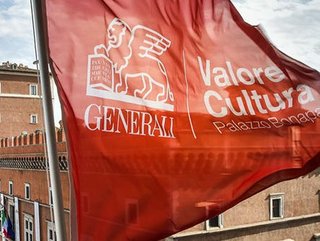 Meet Stefano Bison, Group Head of Business Development, Partnerships & Innovation at Assicurazioni Generali and InsurTech LIVE guest speaker
InsurTech LIVE is coming your way this 18-19 October with amazing guest speakers, including Stefano Bison, Group Head of Business Development at Generali
Ahead of InsurTech LIVE this October, we run you through the experiences and expertise of our accomplished guest speakers.
Among them is Stefano Bison, Group Head of Business Development, Partnerships & Innovation at Assicurazioni Generali.
We look at Bison's career to date, and how he came to be Group Head of Business Development, Partnerships & Innovation at one of the world's leading global insurance and asset management providers.
Stefano Bison, Group Head of Business Development, Generali
Stefano Bison has been in the insurance, financial and consultancy space since the beginning of his career.
Taking on junior roles at Credit Suisse and Oliver Wyman, Bison soon became an M&A Banker at Lehman Brothers, before taking the same role at Nomura a year later.
Then, in 2009, Bison took up the role of Project Leader Manager at The Boston Consulting Group (BGC).
In the post for over four years, Bison was charged with management consulting with a focus on financial institutions.
He was also a member of the European Corporate Finance & Strategy Task Force during this time, involved in corporate finance, restructuring, M&A, due diligence, and turnaround projects.
Bison joined Generali in 2013, as HR Transformation Manager-Group Investment & Asset Management; HR Business Partner Group CIO Area, before taking up the position of Head of HR Transformation in 2015.
A few role changes followed before Bison became Group Head of Business Development & Partnerships, a title which would soon become the one he holds today – Group Head of Business Development & Innovation.
In his current role, Bison is directly responsible for securing Generali's growth opportunities and business development, launching new business initiatives and distribution channels.
Throughout his time at Generali, Bison has turned his hand to investment, becoming an Angel Investor in Armadio Verde, as well as an Equity Partner in the accelerator iStarter.
Bison left iStarter in 2019 with a 1.5x return on his capital investment.
Bison has also contributed investment in Jobmetoo, Opportunity Network and Snowit, the latter of which also saw him take up a role on its board.
In addition, Bison has held the position of Mentor at Develhope, Member of the Strategic Advisory Board at B3i; Mentor at Mentors4u; Supporter and Brand Ambassador for TUA; Equity Partner at Moffu Labs; Advisory Board Member for the Digital Transformation Academy of Politecnico di Milano; Consigliere Direttivo for the Italian Insurtech Association; Board Member for Efma; Deputy Chairman of the Board of Directors and Non-Executive Director for House of Insurtech Switzerland; as well as mentor and coach to various startups.
Bison was recently accredited by the Massachusetts Institute of Technology for completing a programme in Executive Education, Leadership and Innovation.
Bison will join a host of other speakers at InsurTech LIVE, including fellow colleague and Managing Director of Generali, Peter Stockhammer, Group Head of Innovation at Zurich, Joel A Agard, AXA Global Healthcare's Chief Transformation Officer, Frederick Bisbjerg, and Infosys Consulting's Managing Partner, Europe, Financial Services and Insurance, Jayakumar Venkataraman, among others.
Agard's career and achievements to date can be found here Stockhammer's here, Bisbjerg's here, and to learn about Venkataraman, click here.
Stay tuned to learn more about our InsurTech LIVE guest speakers over the coming weeks.
Looking to take part?
If you want to take part in InsurTech LIVE, click HERE to get access to your FREE pass, and join our global audience for this two-day exclusive virtual event delving into the present and future of all things insurtech.
And for the chance to showcase your values products and services to partners and customers alike, click the link HERE to become a sponsor at InsurTech LIVE 2023.
You can contact a member of our team today to discuss sponsorship opportunities.
******
For more insights from InsurTech Digital, you can see our latest edition of the InsurTech Digital here, or you can follow us on LinkedIn and Twitter.
You may also be interested in our sister site, FinTech Magazine, which you can also follow on LinkedIn and Twitter.
Please also take a look at our upcoming virtual event, InsurTech LIVE, coming on 18th-19th October 2023.
******
BizClik is a global provider of B2B digital media platforms that cover Executive Communities for CEOs, CFOs, CMOs, Sustainability Leaders, Procurement & Supply Chain Leaders, Technology & AI Leaders, Cyber Leaders, FinTech & InsurTech Leaders as well as covering industries such as Manufacturing, Mining, Energy, EV, Construction, Healthcare + Food & Drink.
BizClik – based in London, Dubai, and New York – offers services such as Content Creation, Advertising & Sponsorship Solutions, Webinars & Events.