InsurTech LIVE: Meet Peter Stockhammer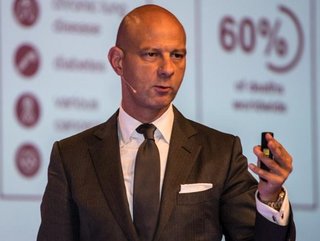 Meet Peter Stockhammer, MD, Generali Engagemet Solutions GmbH, and InsurTech LIVE guest speaker
InsurTech LIVE is coming your way this 18-19 October with some amazing guest speakers, including Peter Stockhammer, MD of Generali Engagement Solutions
Ahead of InsurTech LIVE this October, we run you through the experiences and expertise of our accomplished guest speakers.
Among them is Peter Stockhammer, Managing Director (MD) of Generali Engagement Solutions GmbH.
We look at Stockhammer's career to date, and how we came to be MD of one of Italy's leading financial services companies.
Peter Stockhammer, Generali MD
A Certificate Programme for Insurance Management graduate from the Vienna University of Economics and Business, Stockhammer took his first steps in the insurance world working as an Assistant to the Management Board at BARC Versicherungsholding AG.
It was here Stockhammer learned the inside track from the insurer's management team before it was renamed to UNIQA in 2000.
Following the rebrand, Stockhammer went on to take the Head of the Accident Insurance Division, where he was charged with product developments, increasing underwriting and claims productivity, developing guidelines for underwriting and risk as well as department KPIs.
After a year in the role, Stockhammer soon found himself taking on additional responsibilities in 2002, charged with restructuring UNIQA's life company in Poland.
Then, eight years after first joining UNIQA, Stockhammer searched for pastures new, taking up the role of Managing Director at ReMark International in 2005.
Here, his main responsibilities were to develop and run marketing campaigns on insurance products for banks and insurers across Germany, Austria, and Switzerland, as well as generate leads out of marketing for sales purposes.
The opportunity then arose for Stockhammer to take the position of CEO of Life Insurance at Zurich, where he managed the divisions strategy development in local markets, developed life insurance products, delivered KPIs and produced new sales initiatives.
Over six years spent at Zurich, some time as an independent consultant was, perhaps, necessary at this stage of Stockhammer's career.
In 2015, though, he took up the position of Managing Director at Generali, a position he still holds after eight years in the post.
At Generali, Stockhammer directs Generali Vitality, is the stream leader of Marketing & Distribution, Communications and Business Development departments, and leads partnerships agreements as a member of the Executive Management team.
Stockhammer will join a host of other speakers at InsurTech LIVE, including AXA Global Healthcare's Chief Transformation Officer, Frederick Bisbjerg, and Infosys Consulting's Managing Partner, Europe, Financial Services and Insurance, Jayakumar Venkataraman, among others.
Bisbjerg's career and achievements can be found here, and to learn about Venkataraman, click here.
Stay tuned to learn more about our InsurTech LIVE guest speakers over the coming weeks.
Looking to take part?
If you want to take part in InsurTech LIVE, click HERE to get access to your FREE pass, and join our global audience for this two-day exclusive virtual event delving into the present and future of all things insurtech.
And for the chance to showcase your values products and services to partners and customers alike, click the link HERE to become a sponsor at InsurTech LIVE 2023.
You can contact a member of our team today to discuss sponsorship opportunities.
******
For more insights from InsurTech Digital, you can see our latest edition of the InsurTech Digital here, or you can follow us on LinkedIn and Twitter.
You may also be interested in our sister site, FinTech Magazine, which you can also follow on LinkedIn and Twitter.
Please also take a look at our upcoming virtual event, InsurTech LIVE, coming on 18th-19th October 2023.
******
BizClik is a global provider of B2B digital media platforms that cover Executive Communities for CEOs, CFOs, CMOs, Sustainability Leaders, Procurement & Supply Chain Leaders, Technology & AI Leaders, Cyber Leaders, FinTech & InsurTech Leaders as well as covering industries such as Manufacturing, Mining, Energy, EV, Construction, Healthcare + Food & Drink.
BizClik – based in London, Dubai, and New York – offers services such as Content Creation, Advertising & Sponsorship Solutions, Webinars & Events.