EY's Global Insurance Leader on 'Women in Insurtech'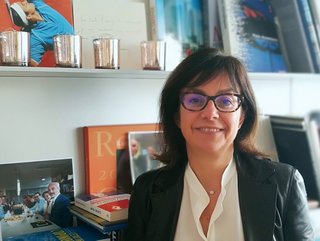 We caught up with Isabelle Santenac, EY's Global Insurance Leader to find out about her journey into insurance and her industry-broad view on insurtech
EY's Global Insurance Leader, Isabelle Santenac has over 30 years of experience working with large financial services organisations. Previously, she held the role of Assurance Managing Partner for EY EMEIA Financial Services and previously, Santenac held the role of Global Assurance COO based in London. Since 2000, she has served as the lead partner for large international financial institutions headquartered in France or in Europe, whether audit or non-audit clients. We caught up with her to find out more.
Tell us about your current role - how did you get there and is there a story?

As the EY Global Insurance Leader, I work with a team of more than 23,000 industry professionals committed to shaping and transforming an industry that is rapidly evolving.

Prior to this role, I was Assurance Managing Partner for EY EMEIA Financial Services for seven years and before that I was Global Assurance COO for five years based in London. Since 2000, I also served as the lead partner for large international financial institutions headquartered in Europe. My clients were predominantly in the banking industry until six years ago when I started to become more involved in the insurance industry, which I found very interesting considering its role in society and the transformation agenda ahead. In the past few years, I have furthered my commitment to sustainable initiatives, and am currently the Treasurer and Board Member of Positive Planet, a non-profit organisation for which EY is providing skilled sponsorship via its social responsibility programme, EY Ripples. My three children inspire me to think differently every day and have exposed me to the many challenges this generation is facing, particularly with regard to ESG and climate change.
What attracted you to the industry - and the sector you are currently in?

Insurance is a critical industry, with a noble purpose to protect people, businesses, and society as a whole. Working for this industry is very interesting and requires broad skills and competencies that EY is able to offer, whether from technology, assurance, tax, transaction, strategy, consulting etc. The industry has a massive transformation agenda ahead, in order to be more digital, more customer centric, more innovative, more profitable – which drives a variety of opportunities for a firm like EY. This variety is what attracted me to the industry. Additionally, insurers have the ability to influence many things in society, including ESG behaviours for example, through investments, educating society on future risks, and advising clients on how to mitigate these risks.

This is an exciting time to be in the industry; with clients spanning multiple sectors, we understand how complex market dynamics have an impact on insurers' growth and transformation plans.
What are the biggest challenges facing your particular area of expertise at this moment in time, and why?

Business resilience is the top priority for many insurers right now due to the uncertain macroeconomic and geopolitical landscape. We're facing a turbulent market with many competing priorities and although this has been said before, innovation and transformation remain crucial.

The growing protection and savings gap demonstrates that more individuals need insurance against a range of complex and proliferating threats – this means the industry is hungry for talent with experience outside of insurance. The protection gap cannot be addressed by the industry alone, and I believe the industry should speak more collectively about the challenges ahead and propose solutions for public private partnerships. If the industry cannot change the protection gap trend, its reputation will be damaged unfairly for not taking swift and decisive action.
Is diversity a problem in the insurance industry? - and if so, what should we be doing about it?

To drive change, you need to have clear targets on what you want to achieve, and ensure you give fair opportunities to more diverse talent to grow in your organisation. You need to identify potential early, and ensure they are given the right career path to progress up to the top of the organisation. That requires sponsorship of the top leaders of organisations. At EY, I have taken a proactive stance in championing the next generation and always appointed diverse leaders in my team.

I am convinced that more diverse leadership teams are more successful. EY as a business is incredibly dedicated to supporting DE&I and has numerous initiatives and programmes, including the EY Women Fast Forward programme – Fast Forward seeks to empower a diverse workforce by enabling women and girls to reach their potential through education, mentorship, innovation and entrepreneurial opportunities.

It is crucial that organisations listen to their people and take action – in every industry.

I am honoured to speak about mentoring female talent and nurturing this pipeline at industry events, and I am thankful for the tireless work organisations, including The Association of Professional Insurance Women, and ISC deliver to raise awareness and bring about change in the industry.

Beyond this, I think the industry has a reputational issue for being male dominated and old fashioned, and this simply is not true. A testament to this is that for the first time, a woman, Tricia Griffith, President and CEO of Progressive Corporation was elected the 2020 US insurance leader of the year. At EY I have the honour and the pleasure to work alongside incredibly talented insurance female partners across the globe.
If you could give one piece of advice to a younger you, what would it be and why?

Don't restrict yourself in your career aspirations, no one is perfectly ready for the next role but be confident you can do it. Express your aspiration, don't wait and expect someone will come and propose the role to you.
How do you see your particular specialty developing over the next five years?

In the next five years, insurers will accelerate their move to digital, have more diverse distribution channels, including partnerships, and be part of or own ecosystems and develop new products to help society be better protected and more sustainable. They will need advisors like EY who can accompany them through their transformation journey, helping them be more innovative and efficient in adapting their IT platforms and their customer proposition.

We have significantly invested in EY Insurance from our technology consulting business, ahead of the rest of the firm, which makes us the partner of choice for the insurers. The success of our digital Nexus platform developed over the past six years shows how we understand our clients and have anticipated their needs. I am passionate about bringing together our best experts across the globe to build innovative solutions to support the growth of our clients. I am also passionate about helping the insurance industry to live its purpose – which is protecting individuals, communities, and businesses, and do this by creating a foundation that is fertile and agile in order to adapt to the many obstacles facing us due to climate change. We have increased our team of insurance ESG experts significantly in recent years, and will continue to do so as this will continue to be a key focus of the industry over the coming years.
What inspires you in insurtech today?

The infinite possibility to solve some of societies biggest challenges by harnessing collaboration and technology to create solutions together instead of in isolation. As technology continues to rapidly evolve, we can address both short- and long-term issues related to ESG and this can only mean a better outcome for many. We need to find new solutions to solve the new challenges we are currently facing and the insurtech companies should be a catalyst for that.