Webinar: maximising value of insurance data using the cloud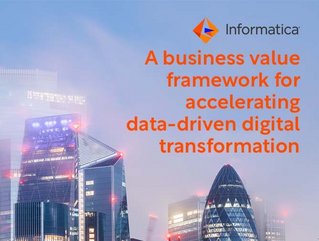 James Berrocal Sizemore, Informatica's Chief Strategist for Insurance, will talk about using the power of the cloud to maximise the value of insurance data
Insurance is data intensive, and carriers need cloud data management capabilities robust enough to match that intensity.
Join James Berrocal Sizemore, Informatica's Chief Strategist for Insurance, to explore how to use the power of the cloud to maximise the value of insurance data. This upcoming webinar will discuss data ingestion, integration, master data management, data catalogue, and data governance and privacy – in particular how they relate to the digital transformation of the insurance industry.
Register now: A business value framework for accelerating data-driven digital transformation
The webinar will be hosted by Bizclik Media's Managing Editor Neil Perry and will take place on Tuesday 17 January 2023 at 1pm UK time (8am New York).
About the speaker
James Sizemore – Chief Strategist, Insurance, Informatica
James Sizemore is Informatica's Chief Strategist for Insurance, where he leads the development and delivery of the company's enterprise software go-to-market strategy.
As a thought leader and industry expert, James collaborates with insurance leaders globally, to understand their unique drivers, trends, and challenges – to ensure Informatica remains responsive to those drivers, and a trusted partner to address those challenges.
Before joining Informatica in 2021, James spent more than 20 years as an enterprise architect and business-focused data governance leader at companies such as Legion Insurance, Cigna, and Tokio Marine.
James is the proud father of three, holds a purple belt in Brazilian Jiu-Jitsu, and is currently completing his MBA with a concentration in Artificial Intelligence at the University of Cumbria.