There's a drought in insurtech funding – but how bad is it?
Insurtech VC funding is out in the desert; is there a way back to the verdant pastures of two years ago?
Insurtech venture capital funding has reached its lowest level in almost five years – but there are still reasons to be cheerful, a new report suggests.
Insurtech venture capital funding has fallen to its lowest level in almost five years, according to the findings of a new report.

The State of Global Insurtech report from Dealroom shows that the sector had raised US$2.4bn by 2 June – so almost the entirety of the first half of the year.
That is the single lowest dollar amount in 10 consecutive half-year periods, and means that it's highly likely venture capital funding will fall again for a third consecutive period. Insurtech funding reached a high in 2021, when, in spite of the COVID-19 pandemic, VC funding topped US$7bn in both the first and second halves of the year.
According to Dealroom, the latest set of figures mean the insurtech sector has lost 45% in VC backing year-over-year.
Do the figures show a slump in insurtech funding?
Despite the depressing headline findings, Dealroom is confident that there are still reasons to be optimistic. For example, early-stage funding is down 30% on peak but is "holding on well" at the beginning of this year compared with the final quarter of 2022, Dealroom says.
Insurtech represents a US$7tn market opportunity – larger than the mobility market, which covers things like passenger transport, even though mobility received five times as much funding. This causes Dealroom to describe insurtech as "strongly underfunded".
It recommends that insurtech firms focus on improving operational efficiency across the entire value chain, with distribution still attracting the most funding and generative AI promising to be a lucrative topic for the insurance industry.

One of the most prevalent macroeconomic trends in recent years has been plummeting valuations, with several 'down rounds' demonstrating that insurtechs are beginning to rethink how much their business is worth. However, another cause for optimism is that some stronger insurtechs have held, or even improved, previous valuations.

These include wefox holding firm on its US$4.5bn valuation between different closes of its Series D round, first last July and more recently in May this year; as well as bolttech, which went from a US$1bn valuation at its Series A round in December 2021 to a US$1.6bn valuation in its Series B round in May 2023.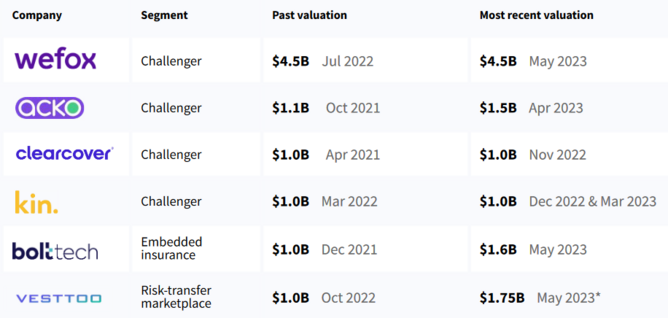 Insurtechs that have maintained previous valuations. © Dealroom
Insurtech funding back at 2018-2019 levels
Despite these glimmers of hope, many insurtechs are still experiencing a 'rationalisation' in their valuations. This is bad news for startups and entrepreneurs – but good news for venture capitalists and even larger insurtech players, who face the prospect of securing a bargain.

Javier Santiso, CEO & General Partner at Mundi Ventures, says: "In the midst of a global market rationalisation, insurtech innovation emerges as a beacon of opportunity for investors. There is indeed a significant opportunity to find amazing innovation in the insurance industry that is being mistakenly compared to the first big wave of disruptive insurtechs.
"We have witnessed a significant market rationalisation, including periods of negative interest rates, which has now led to a correction in the tech markets. The current environment is much more favourable for investors, with valuations returning to normal levels and sufficient time available for conducting [due diligences].
"Furthermore, with technology-focused private equity funds holding over US$300bn in dry powder, we anticipate a resurgence of ultra-liquidity. This influx of capital will not only enhance market dynamics, but also unlock a multitude of additional investment opportunities."
Indeed, there have been warnings from across the broader fintech sphere that the fintech industry should expect a "tidal wave of consolidation" in the year to come as M&A activity picks up additional pace. Despite insurtech funding drying up, there have already been 12 insurtech-related acquisitions since the start of the year, according to industry website Crunchbase.