Telematics in insurance: speeding towards a safer future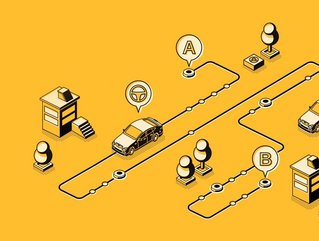 Telematics technology has the potential to overhaul the fleet industry and is becoming a mainstream option for customers.
As technology evolves and the cost of implementation becomes more accessible, insurers and fleet operators are increasingly adopting usage-based insurance (UBI). These types of integrations – which can either incorporate onboard telematics systems or plug-and-play options instead – allow insurers to provide more bespoke cover to their customers while capturing a clearer picture of driving behaviour.
Despite the availability of telematics solutions, their uptake among commercial operators is still relatively low. Research from mobility and automation consultancy Ptolemus found that 25 million vehicles are equipped with UBI solutions, but less than 1% of these policies are offered to fleet vehicles.

Ptolemus expects growth in the UBI space, projecting that there will be over 20 million fleet UBI vehicles by 2030. Commercial insurance telematics premiums are expected to reach €20bn by the same year. Writing in the report, Ptolemus managing director Frederic Bruneteau claims that it's high-time fleet insurers seized upon the telematics opportunity.
"Higher interest in fleet telematics, a desire to reduce losses and more sophisticated, affordable technology solutions entering the market are just three key drivers," Bruneteau says.
The state of telematics in fleet insurance
"Telematics technology has traditionally been used for real-time tracking of the fleet and accessing reports on their usage, including fuel consumption, utilisation, idle time and crashes," explains Biswajit Kundu Roy, CEO and founder of vehicle rental platform Coastr.

"More recently, telematics data is providing access to real-time vehicle data that is being used for monitoring driving behaviour such as harsh braking and speeding by fleet operators and insurance companies. More advanced fleet software is also able to use data such as diagnostic engine alerts to schedule early maintenance of vehicles.

"Most fleet management software has technical debt challenges and is often difficult to change or integrate with other platforms that are being used by the fleet operator. Due to those limitations, most fleet management software does not utilise telematics data as part of its core processes, often requiring fleet operators to purchase and manage two different solutions, then manually reconcile the data between them."

Christine Minetou, chief pricing officer at UK home and motor insurtech Policy Expert, describes an ideal-case scenario: "Undoubtedly the most impressive utilisation of AI I've come across in the insurance industry is the Chinese automobile insurer Ping An and the way it uses cloud-based technology to transform the way motor insurance claims are handled.

"The smart city of Shenzhen has established a level of connectivity that has improved transport flows, eliminated traffic jams and enabled the identification of potential accident hotspots. It also means that response teams can be positioned near these areas to access the scene of an accident within minutes, achieving response times that are the envy of the emergency services.

"Once there, the insurance response teams can take pictures that can be uploaded immediately so that liability can be established and the cost of damage can be assessed – all by automated systems."
Insurers must adapt to the EV era
As the world becomes increasingly electric, insurers and fleet operators will have no choice but to keep up. The most obvious challenges arise from recharging needs, which, along with the prospect of battery degradation, will need to be factored into platforms. With telematics built into pretty much every new electric vehicle (EV), there is also scope for customers to share this data with insurance providers and allow a more seamless data transfer without the need for additional devices or apps – this will, however, need to be handled sensitively.
"Manufacturer installs are still viewed with some suspicion in terms of GDPR and who is watching," explains Simon Naylor, director of Wessex Fleet. "Customer-installed units have more trust, but they have to be easier to manage."

Coastr CEO and founder Biswajit Kundu Roy expects it to become commonplace for insurers to connect directly with the manufacturer's APIs and collect data straight from the vehicle in real time. He also says that the ability to integrate with operational platforms – such as accounting, payments and service networks – will help to provide advanced fleet insights like fleet planning and cost management.
With consumers increasingly aware of environmental issues – and the negative PR that comes from lagging behind – there is also the possibility for operational data to be utilised to measure an operator's carbon footprint, helping reduce energy and fuel usage.

Biswajit Kundu Roy says: "The EV fleet has created new requirements from the fleet management system, with demands on EV fleet-specific reporting around charging, battery health residual values and parts costs for EVs, to name a few.
"In addition, the need for connecting to wider services and the vehicle has also grown as EV drivers need information around charging stations and availability of chargers in real time. Increased numbers of EVs on the road will increase the demand on charging grids as well, which may lead to other cyclical impacts on fleet management.
"Finally, EV vehicles last longer and have longer gaps between their maintenance schedules, which will be different to petrol and diesel vehicles due to them requiring more frequent maintenance."
Clearly, by encouraging operators to share telematics more widely, insurers can foster a closer relationship with customers – not just one that is better at predicting risk, but one that can also benefit the operator. Telematics have the potential to flag bad driving practice, identify areas of fuel inefficiency and save the operator money, both on insurance and on day-to-day operations.
The rise of EVs presents some challenges to the industry. Telematics platforms will have to factor into their app the reality of operating an EV fleet, while insurers will have to constantly ensure that their policies reflect the evolving business challenges that their customers face. But more EVs on the road won't slow the rapid acceleration of UBI or halt the growth in telematics within the commercial insurance space.