Talking embedded insurance with Cover Genius' Angus McDonald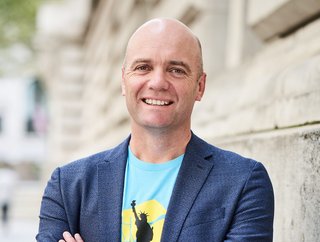 Angus McDonald is CEO and Co-Founder of insurtech unicorn Cover Genius.
The CEO of insurtech unicorn Cover Genius talks about their insurance distribution platform, the power of persistence, and why he looks up to tennis stars
Describe your role and your background. How did you get to this point?
Chris Bayley and I co-founded Cover Genius because we saw a massive opportunity in the trillion-dollar insurance sector, where traditional insurers were siloed, country-specific and difficult to work with.
To address this, we built our global insurance distribution platform, XCover. We focused extensively on acquiring the necessary licences or authorisations in more than 60 countries and all 50 US States to distribute insurance (and non-insurance) products via XCover, with claims and support handled by XCover.com – a consumer site that has been shown to reduce support inquiries seven-fold.
By building a tech-forward platform that could handle different market requirements, compliance, quote and bind questions, pricing, reporting, marketing, claim filing, claim processing and payouts we were able to bring an innovative approach to an industry that is notoriously slow to evolve past its legacy systems.
Who was your childhood hero and why?
My heroes growing up were tennis players who became global stars. People like Steffi Graf, Andre Agassi, and Roger Federer were all players who came from humble beginnings but put their minds to becoming the best tennis player they could be. These were qualities that not only inspired me but were an inspiration for all children around the world.
What's the best piece of advice you ever received?
The best piece of advice I've ever received is about the power of persistence. If you believe you're on the right path, then always persist; sometimes, good things take longer than you hope or expect. This advice has stayed with me throughout my life. I think that if you truly believe in what you're striving toward, it's really important to stay optimistic and persistent along that journey.
Who or what inspires you in fintech today?
Technology is helping to make fintechs more people-centric. By leveraging relevant data, brands can anticipate the needs of their customers to make their online and offline experiences more convenient and efficient. For example, budgeting apps analyse real-time data to give consumers insights on their spending habits so they can make informed financial decisions; BNPL payment apps offer consumers an extra layer of flexibility with short-term financing; and insurtechs like Cover Genius make it simple to offer customers protection when they need it most by leveraging transaction data.
Companies creatively using technology to generate personalised experiences are inspiring, and I look forward to seeing what's next for the industry.
Some industries, like air travel, are highly regulated. How do you balance embedded insurance with the need for those businesses to do the right thing by their customers?
Travel insurance presents an opportunity for airlines, OTAs, and other travel providers to deliver enhanced customer experiences, as it's typically a pain point for customers. In our recent Embedded Insurance Travel Report, many consumers felt traditional insurance providers had failed them during COVID-19 as, globally, 20% of customers who made a claim for pandemic-related reasons weren't covered, despite purchasing travel insurance for pandemic protection.
At Cover Genius, we work with travel brands to deliver easy-to-understand protection embedded in the purchase journey, along with other customer-centric benefits such as the ability to dynamically bundle and unbundle products, and industry-leading claims experiences with instant payouts in more than 90 currencies. By enhancing their travel insurance offerings, brands can create better customer experiences that drive loyalty and repeat business.
In an embedded future, does it become easier or harder for companies to do the right thing by their customers?
Embedded distribution brings protection to the online customer journey and makes it imperative for brands to deliver strong customer experiences.
By partnering with an insurtech, digital companies can create tailored offerings that are personalised, priced right, and delivered conveniently. Our research shows that customers want this protection. 70% of global customers are highly interested in receiving embedded protection directly from their bank or financial institution, and this trend carries through other sectors like retail, travel and property.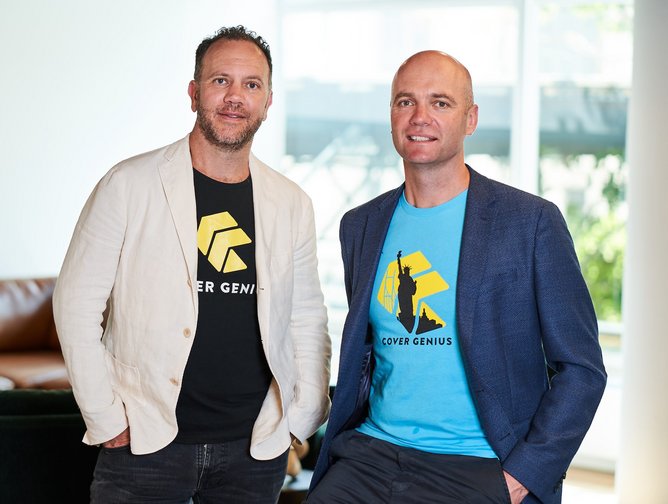 McDonald founded Cover Genius with co-founder Chris Bayley (left).
What's the one piece of technology you couldn't live without?
My headphones, hands down! I love listening to music so having great headphones is a must, wherever I am.
What's one fintech you use yourself on a regular basis?
I often use Zip for a number of reasons. Zip hasn't only been a great innovator in the BNPL space, but they are also customer-centric, which is a value that's very important to me. It's a convenient way to make online purchases around the world on products big and small, plus I have protection on those goods.
It's been just over a year since Cover Genius hit unicorn status. That must have been an incredibly proud moment as a founder. What's it been like?
It's been an incredible journey; we've had a monumental year of growth in which we reached $1.1mn in daily GWP, nearly tripled year-on-year revenue, reached 10.5mn customers, and broadened our reach in key industries through acquisitions and strategic investments. In addition, we closed our Series D funding round at $70mn – our highest-ever funding round, raised in a challenging environment.
As we grow, it's validating and rewarding to know that we'll be able to expand the scope of our XCover platform to protect even more customers of the world's largest digital companies.
Describe yourself in three words.
Persistent, considered, and trustworthy.
Is there a personal achievement from the last 12 months you're particularly proud of?
We had our $70mn Series D fundraise a few months ago, which I'm especially proud of. On a truly personal level, though, I love my family and have been able to spend much more time with them over the last 12 months. I'm proud of them and the time we're able to have together.
What was the last book you read and when?
I've just finished Cormac McCarthy's latest book, 'Stella Maris'. He's a Pulitzer Prize winner and a great author who always produces thought-provoking stories.
What do the next 12-18 months hold in store for you?
More business ecosystems are moving online, providing a greater opportunity for embedded distribution to enhance the customer experience. Consumers increasingly want more convenient, tailored protection offered within their online experience, which bodes well for Cover Genius. We're focused on expanding our insurance distribution platform to dive deeper into industries and continuously innovate to make protection more accessible to the customers of the world's largest digital companies.
Our teams are working on exciting partnerships in the travel, property, retail, ticketing, logistics, B2B, and fintech industries that we'll be announcing over the next few months.