No-code platform CoverGo expands to MEA after $15mn raise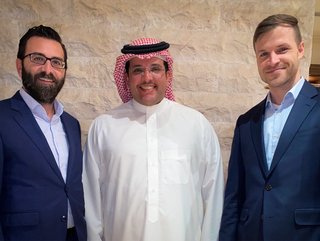 CoverGo's George Majdalani (left) and Tomas Holub (right) with Noria Capital's Rakan Abunayyan.
CoverGo will use US$15mn of Series A funding to expand into the Middle East – a market it calls "perfect" for its no-code, API-driven insurance platform
CoverGo – a no-code SaaS insurance platform designed for the P&C, health and life insurance markets – is expanding into the Middle East after securing US$15mn in a Series A funding round that includes backing from MEA-focused VC firm Noria Capital.
It's the latest milestone for the Singapore-based SaaS provider, which recently established a presence in the Dubai International Financial Centre (DIFC) and became part of DIFC FinTech Hive, an accelerator programme aimed at the MEA and South Asia.
The latest funding round is by far the most capital ever secured by CoverGo; until today, it had only disclosed US$2.7mn's worth of seed and pre-seed investment, the most recent coming in 2020. But the insurtech platform, founded in 2016, has secured some big-name clients including AXA, Bupa, Dai-ichi Life and Bank of China Group Insurance.
CoverGo 'a perfect fit' for Middle East insurance market
George Majdalani, who will lead the new MENA business, says: "CoverGo's no-code API-driven insurance platform is a perfect fit for the Middle East insurance stakeholders who are looking to launch and efficiently manage new, innovative products and enable seamless digital distribution without disrupting their existing systems."
CoverGo CEO and Founder Tomas Holub continues: "Middle East insurance companies are realising now more than ever that custom IT development is too slow and costly while rigid legacy systems can't satisfy changing customer needs and product requirements. As a result, we have seen a fast-growing demand for CoverGo as a truly configurable no-code platform. The strategic investment from Noria Capital will further accelerate CoverGo's growth in the Middle East and provide relationships with key partners and insurance companies in the region."
Rakan Abunayyan, General Partner of Noria Capital, adds: "CoverGo's next-generation no-code platform provides insurance companies with an unbeatable speed to market and cost savings while driving efficiencies across the whole value chain. CoverGo is uniquely positioned to become the insurance platform market leader, in particular for health insurance in the Middle East, and help companies accelerate their digital transformation without heavy IT development. We are excited to support CoverGo on its growth journey and expansion in the Middle East as well as the African market."