Insurtech CoverTree targeting prefabricated housing sector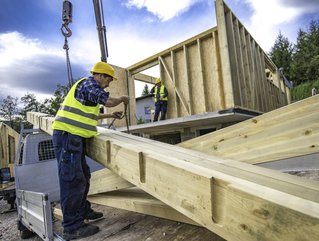 Prefabricated or manufactured homes are built in a factory before being shipped to site.
US insurtech CoverTree has launched an insurance proposition aimed at the growing number of prefabricated houses, which are often more expensive to insure.
US-based home insurtech CoverTree has raised US$10mn in seed funding co-led by AV8 Ventures and Distributed Ventures, which will allow it to launch its digital insurance solution in seven initial states.

The MGA has gone live in Arizona, Indiana, Michigan, New Mexico, Ohio, Illinois and Tennessee – and will use the capital injection to fund further state and product line expansion, grow out its team, and invest in new technology including distribution portals and further automated underwriting.
The Detroit-based insurtech is aiming to address disparities in home insurance for customers with prefabricated or manufactured homes, which, unlike traditional construction methods, are created in a factory before being assembled on site. As the country's housing crisis deepens, manufactured homes are expected to play a central role in improving affordability for buyers; there are already 22mn such homes in the US, which is expected to grow significantly in future. Although they require the same homeowner insurance as traditional homes, prefabricated dwellings are often more expensive to insure and more complex to assess due to their structural differences.

CoverTree is innovating specialty personal lines of insurance tailored towards customers who reside in prefabricated homes and is partnering with insurance firm Markel to launch its initial offering.
CoverTree targeting 'best-in-class' manufactured home insurance
"A lot of America doesn't see manufactured homes in their neighbourhood, but it's a key part of the residential landscape in the country and core to the American Dream," says Adarsh Rachmale, Co-Founder and CEO of CoverTree.

"Insurtechs and major carriers have historically ignored middle America, specialty insurance, and manufactured homes. Specialty insurance is difficult to underwrite and distribute. A specialty insurance policy often passes through multiple pairs of hands before it ends up with the consumer, who ends up overpaying and getting the worst experience. We believe manufactured home insurance should be easy, modern, and affordable."
Divyansh Sharma, Co-Founder and CTO of CoverTree, adds: "The lack of data in manufactured homes made it compelling for us to build our own data sets and automate the underwriting. Our systems are built towards optimising data network effects, learning from historical loss data. Many of our competitors have not updated their insurance products in over 10 years [while] our dynamic systems allow for rapid product expansion."

CoverTree's founders believe that demand for its insurance products will grow as more Americans turn to minimalist lifestyles and off-the-grid living. Its policies cover the full spectrum of prefabricated and manufactured properties, including those that might be termed 'modular homes' or stationary trailers.
"Markel is excited to partner with CoverTree to benefit what has been an underserved market for many years," says Jeff May, Executive Underwriting Officer for Markel. "Our combined focus on ease of use, robust coverage offerings, pricing sophistication and technology will undoubtedly lead to a best-in-class product offering within the manufactured home insurance segment."