Fairfax sells global pet insurance business to JAB Holdings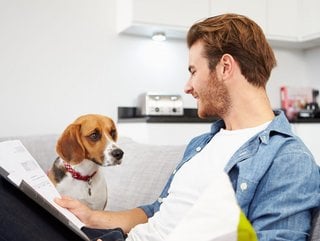 Canadian P&C insurer Fairfax has agreed to sell its global pet insurance business, including its interests in C&F Pet and Pethealth, to JAB Holdings.
Canadian P&C insurer Fairfax has agreed to sell its interests in Pethealth and the Crum & Forster (C&F) Pet Insurance Group to JAB Holdings for US$1.4bn.
It means that JAB's global pet insurance business will have more than US$1.2bn in gross written premiums and pet health service revenues, covering more than 2mn different pets. C&F Pet insures over 500,000 pets across a number of brands, while Pethealth provides wellbeing and safety solutions to shelters and pet owners under the 24Pet brand.

The sale price comprises US$1.15bn in cash and an additional US$250mn in seller notes. As part of the transaction, Fairfax will also make a US$200mn investment into JCP V, JAB's latest consumer fund, describing what it calls a new partnership with JAB that will endure after the sale has completed.

JAB tipped to be leaders in pet health insurance
Fairfax CEO Prem Watsa says: "Fairfax is very happy to partner with [JAB Holdings CEO] Olivier Goudet and JAB Holding Company. JAB has had an outstanding track record over the past ten years and we expect this to continue. While we have sold our pet insurance business to JAB, we will invest US$200 million in their JCP V [fund] to become their partners. We expect JAB to soon become leaders in pet healthcare and pet insurance globally. We wish them much success."
Olivier Goudet, Managing Partner and CEO of JAB, adds: "We are extremely excited to partner with Prem and his organisation on this transformational transaction, and to welcome them as a partner in our fund. Prem has an incredible multi-decade track record of building great businesses and compounding returns, and we look forward to accelerating the growth of their pet insurance business as part of our focused pure-play pet insurance platform."
Dirk Beeckman, CEO of JAB's pet insurance portfolio, continues: "Today's transaction is a major milestone for us in our mission to become a global leader in pet insurance and the pet health ecosystem. It also significantly advances our mission of providing the leading health and wellbeing ecosystem for pets through the offering of affordable, comprehensive pet products and brands throughout a pet's lifecycle. C&F Pet's long history of disciplined omni-channel underwriting fits perfectly with our culture, and we look forward to working with the team."

Pet insurance market set for long-term growth
It's the latest signal of intentions from JAB, which last October announced the acquisition of two pet insurers – the first a pet insurance unit previously owned by BNP Paribas, the other a Chicago-based player called Figo Pet Insurance. JAB, which is better known as a significant shareholder in Keurig Dr Pepper and Krispy Kreme, is setting its sights on a portion of the growing pet insurance market.

Pet ownership skyrocketed during lockdown. According to FEDIAF, the body representing the European pet food industry, there were 88mn households in the European Union (EU) with at least one pet in 2020 – up from 85mn households the year before. The number of animals also rose. There were 70mn dogs, up from 58m the year before, and roughly 80mn cats, a slight increase from 77mn in 2019.

Earlier this month, Dalma became the second European pet insurance startup in as many weeks to complete a Series A round after announcing €15mn in funding. It comes after Lassie, a Swedish pet insurtech, closed an €11mn round led by Felix Capital. Both platforms are seeking to make it easier for consumers to access and pay for veterinary services, as demand for pet insurance continues to grow.
Pet insurance works by offering regular cover for pet owners against the cost of medical bills, surgery, vaccinations and other expenses related to their pet. The market has been growing at approximately 20% a year globally and is expected to record further steady growth, driven by "attractive long-term trends in petcare" and "significant opportunities to expand penetration", JAB says. This is particularly true in the US and Canada, which have less than 3% penetration.