Ascot launches marine cargo facility for Black Sea routes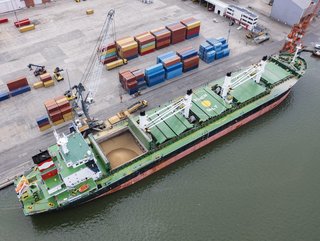 Insurance company Ascot has launched a new Marine Cargo and War facility, which will provide coverage for grain exported through Black Sea corridors.
Insurance company Ascot has announced a new facility which will provide cover for vital grain and food products transitioning through safe corridors in the Black Sea.
Blockades of grain leaving Black Sea ports have been a major problem since Russia's invasion of Ukraine in February, with leaders of the African Union warning that it could cause a global food emergency. But a deal brokered by the UN and signed in Turkey last week means that grain will be allowed to leave Ukrainian ports like Odesa, Chornomorsk and Pivdeny through so-called "safe corridors".
Placed by insurance broker Marsh, the new US$50mn Marine Cargo and War facility will give ships transporting grain and other designated foodstuffs from Ukrainian ports access to reliable and readily available coverage.
Ascot doing its part to 'catalyse' export of grain
Ascot's Head of Cargo Insurance, Chris McGill, says: "This bespoke, mission-focused facility allows the insurance market to play its part in enabling the vital transportation of grain and food products out of Ukraine to the wider world. Under the terms of the treaty, ships can transit designated Ukrainian ports through safe access corridors. Ascot, and the London market, is delighted to be doing its part to catalyse this humanitarian venture."
David Roe, Head of Cargo for Marsh UK, adds: "This facility is a major development in assisting our cargo clients manage the risks associated with operating in the Black Sea during this terrible time of war. Not only will it help unlock supply chains, it will alleviate mounting pressures on global food security, which will benefit nations and communities around the world."
And Patrick Tiernan, Chief of Markets at Lloyd's, says: "The recovery of these grain supplies is vital to addressing global food insecurity and market uncertainty at this difficult time. The facility announced by our market today is of paramount importance. It will add essential protections to the deal brokered by the UN last week and represents the latest support from Lloyd's and the insurance industry to help the international community respond to the conflict."
Much-needed respite for countries affected by blockade
The newly announced facility will provide much-needed respite to countries that rely on Ukrainian wheat, but have been affected by the continued blockade of Ukraine's ports. According to the United Nations Food and Agriculture Organization, Lebanon and Qatar relied on Ukraine for a majority of their wheat imports in 2020. Other nations – like Tunisia, Libya and Pakistan – relied on Ukraine for around half of their imports.
Russia's invasion of Ukraine and subsequent occupation of the country have prompted a series of measures from the European Union (EU). At the beginning of June, the EU announced a ban on insuring or financing the transport of oil between Russia and third-party countries, particularly through maritime routes. That particular measure won't take effect for another six months' time.

The EU had already committed to reducing its dependence on Russian exports, but policymakers were not satisfied with the response of some non-European countries, who continued to import oil from Russia. As many of the large insurers are based in the EU, it will make it virtually impossible for vessels to access insurance when carrying Russian oil.
In the wake of the invasion, many insurance companies distanced themselves from Moscow, including Allianz, who earlier announced the buyer of a majority stake in its Russian business.