Top 10 trend predictions for insurers in 2023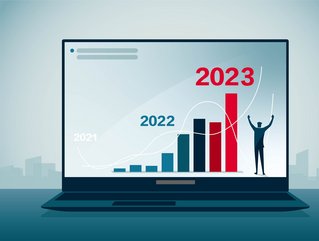 The insurance industry will be disrupted with innovation in technology in 2023 according to the latest insights
As we head towards 2023, the global insurance industry will be undergoing seismic changes as technology and the financial markets remain progressive but turbulent. According to research carried out by EIS - a global core technology provider for the insurance industry, established and startup insurtechs alike will be influenced by a series of factors transforming the space.
Rory Yates, SVP of Corporate Strategy, Global at EIS describes the year to come as the continuation of digital transformation. He says, "With the myriad headwinds facing the sector, digital transformation will remain a key focus for ambitious insurers in 2023. Sustainability, fairness, and transparency will continue to drive innovation and growth. Automation will enable employee-centric transformation, freeing human capital to focus on the customer. While continued competition both from within and without the sector will see insurers move away from compete-on-price strategies to value-driving metrics."
#10 Underwriting will be transformed
Underwriting is already the area of greatest transformation within the insurance space and this trend looks set to continue into 2023 and beyond. New technologies are driving fully-automated or data-driven programmes that streamline the process. Slow underwriting processes prevent life insurance carriers from having a modern agent/customer experience that is fast and self-service.
#9 Insurtech data sources will continue to increase
As the IoT expands and urban areas utilise increasingly smart ways to enhance current infrastructure, the potential for data sources, and better risk assessments, will continue. In the health and life insurance sectors, wearable technologies and incentivised programmes to increase health and lower premiums will continue to be streamlined as real-time data hones the cost of cover and provides sharper insights.
#8 The proliferation of distribution for insurtech
As the cycle of maturation of the insurtech sector continues, underequipped insurers will either lose market share or adapt high-cost point solutions to access and manage new channels, says Yates. This will result in great industry development as fewer technical contenders drop out of the race - or embrace new business practices
#7 The ecosystem of insurers will increase competition
The digital ecosystem is enabling more competition to take place, with the outperformance of the more "tech-enabled" insurer. The adoption of core technology adoption will shift, making way for more agile contenders that adapt and develop new business models to outpace the competition.
#6 Consumers will require more flexibility from their insurance provider
As we head towards 2023, regulators are addressing the need for insurers to act more fairly, and in doing so they are demanding that in a digital age, customers need to be more informed, and clearer on their coverage and be able to make choices with their provider with fewer barriers. Yates says, "This switch can create a "CX pioneers win" paradigm - especially for those that see this as an opportunity rather than an obligation."
#5 New insurtechs will continue to disrupt the marketplace
As more insurtechs enter the insurance industry, incumbent insurers will be placed under pressure to forge partnerships within the digital ecosystem. This will enable them to provide scaling opportunities for innovative newcomers while addressing their own technology and innovation challenges.
#4 Embedded insurance will drive new growth
New offerings such as embedded Insurance, which has an estimated US$3.7trn market potential, alongside new approaches to customer engagement and risk removal, see similar potential, and will say EIS, "help redefine insurance and its role in people's lives."
#3 ESG will be front and centre for insurance company leaders
The race to reduce carbon emissions and achieve net zero goals will be an investment focus for the insurance industry. This will be supported by the increase of data-driven sustainability, along with risk exposure. The rise of ESG will see new regulations being introduced to combat greenwashing and address and establish a clear pathway toward a more sustainable industry.
#2 Automation of insurance processes will continue
Building throughout 2023 and hitting a peak in 2024, automation technologies (RPA, ML, low/no code), analytics technologies (AI, predictive analytics), and connected insurance (IoT, usage-based) will result in increasingly targeted insurance products, better services and increased loyalty with customers.
#1 Insurtechs won't be a casualty of economic stability
Despite the cost of living crisis, insurance will continue to be considered an essential product. While consumers will cut back on other expense areas, insurance for home, car, and health amongst others is essential and will remain a steady source of income for investors, predicts Yates.