Women in InsurTech: Lynn Otugha of RNA Analytics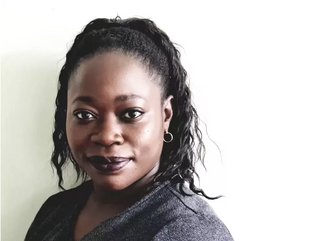 Lynn Otugha, is a Senior Actuarial Consultant at RNA Analytics. A self-confessed number-cruncher with a passion for computing, analytics is her happy place
Lynn Otugha is a Senior Actuarial Consultant for RNA Analytics. She is an expert in quantifying financial risk and has extensive actuarial experience, having worked with a number of major insurance companies in the UK and Europe where she was responsible for delivering various consultancy projects.
There is much more to Otugha's role than simply crunching the numbers. To find solutions to problems, problems actuaries use a combination of complex mathematical modelling, logical reasoning, and their professional judgment to reach their conclusions. She tells us how she came to work in the insurance industry, and how the space is changing and offering women more opportunities. 
Q) Tell us about your role in insurtech - what does it involve - and how did you get there?
I am currently working at RNA Analytics as a Senior Actuarial Consultant, helping support customers from a vast assortment of backgrounds, with our bespoke consultancy services. I work on both the customer delivery side of our consultancy work, as well as the back-end technical construction of some of our most complex and commonly deployed software. 
From as early as I can remember, I have always been interested in mathematics. Whereas some children find their passions throughout school in sports, or creative subjects, or literature, I found mine in maths and computing. I realised very quickly that I had the type of brain that understands numbers well, and I enjoyed the challenge of calculations and working with figures. When I was studying Computer Science at Bachelor's level in Botswana, I had a real hunger to focus on and develop my understanding of the blend between computing and mathematics. This was the time that I identified my passion for the field of work I now find myself in today. 

Q) What attracted you to insurance - and the sector you are currently in?
At the start of my career, I was not particularly aware of actuarial science, and my place of study did not have any such offering either. It was at this point that my father, who identified my love for mathematics long before I think I did, suggested I speak to a contact of his in the UK. This contact then showed me the world of actuarial science, which drove me to enroll at Heriot-Watt University to undertake a postgraduate diploma in the topic.
Following this, I knew exactly where I wanted to hone my skills, insurance and risk management. While the transition from a more scientific and computing background to a field that is now almost entirely focused on actuarial consulting was a challenge at first, I now believe that having the ability to blend these two areas of work and study in a hybrid manner offers many advantages for our customers and our teams. I get to develop models and work with our talented technical teams, but also get to be client-facing and be a part of the teams delivering world-class consultancy services for customers; so, I really do have the best of both worlds. 
Q) If you weren't in insurtech, what industry would you have chosen to work in, and why?
At the start of my career, I was initially focused on computer science and then I went into actuarial, which meant merging my passion for both insurance and technology together. However, if I were to choose a completely new career path to pursue, I think it would have to be law. Even though the law isn't exactly mathematical, which is something I truly enjoy in my current role, I've always been intrigued and fascinated by law and I find myself inspired by all the cases that I used to see people reading. I think there are quite a few similarities between insurtech and law, as both require a considerable amount of consulting in the day-to-day role, which is something I thoroughly enjoy. 
Q) Is diversity a problem in the insurtech space and if so, what should we be doing about it?
In my opinion, I think the problem is less about diversity actually within the insurtech space, and is more about people putting in the work to find a broader range or collective of people to employ. There is still room for improvement in my opinion because the talent is out there, I believe the onus is more on employers to seek the right people, rather than the industry as a whole having a problem.

There used to be a perception that there is a lack of experienced candidates within our field, however, I have found that is not the case. Those who had the experience but come from more diverse backgrounds were not being considered for the roles. Additionally, companies can also help create opportunities – such as apprenticeship programmes - to target these minority groups, to develop their careers in the insurtech space from the very beginning. They need to look further afield when recruiting for our industry and to take more responsibility in taking a deeper look at who's available for the role.
Q) How do you see the insurtech space developing over the next five years, with particular reference to your specialty?
There are currently vast amounts of technology developments and innovations happening, especially within the insurance sector. Customers now expect instant digital transactions, and so this sort of instant reaction brings real-world problems, which you need technology that can match. 
At RNA, we are constantly developing and innovating with our technologies to ensure better service for our customers and to keep up to speed with the insurance industry. I can see a lot of the insurance side modernising their traditional processes to adapt to more technical solutions, to make more from new technology advances to help sell their product, and to create new services as well. Cloud technologies also remain a key tool for companies to invest in moving forward, as so much data is now being produced and we have to be able to provide the capacity to store this data somewhere. 
The option of remote working has also completely changed the face of the industry. We've found remote working to be even more efficient and effective when dealing with customers, probably more so than before as the time and budget are no longer a constraint. We provide a consistently good service, and we continue to do so remotely, which I can see remaining as an integral part of working moving forward. 
I truly do believe that we are in the midst of one of the greatest shifts away from traditional models found within the actuarial and risk management markets. We are well on our way to a world driven by cloud, connectivity, and hybrid/remote working, a world in which RNA's global experts are in a prime position to lead.
Q) What inspires you in insurtech today?
The way the world is connected nowadays inspires and so the ability to just connect with my clients, again in real-time, and to be able to help them remotely. Being able to do my best and help my clients as much as possible, with all the innovative solutions that we have at our disposal, motivates me, and makes me proud to be part of our industry. 
In recent years, I have undoubtedly witnessed a digital revolution – as we all have – and that really excites me. Increasingly so, I am witnessing companies turning towards technology to help with service automation, using software like AI, to help improve customer service and how data is accessed by customers, which is fascinating when looking forward to the future of insurtech. There's a lot of tools available to help the clients and it's made life much easier and much simpler to provide everything they need to achieve. The work I do is greatly inspired by both the people around me and by working with my clients. 
Q) What advice would you offer a young person looking to enter the insurtech industry today? 
For a young person, I think their self-confidence and their ability to do the work, will always be recognised and rewarded. My advice for anyone starting up in the insurtech industry would be to not shy away from any opportunity that presents itself. I would always advise being confident and if you're able to do the job, apply for the role and your ability will always be recognised and rewarded as a result.