Women in Insurtech: Akur8's COO Anne-Laure Klein talks tech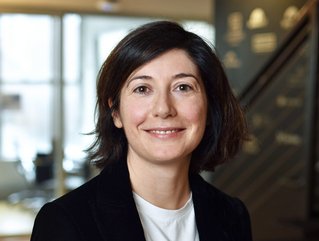 Anne-Laure Klein is the COO at Akur8. As a leader in the insurance pricing, Akur8 is transforming the insurtech industry with its cutting-edge solutions
Anne-Laure Klein is the COO at French insurtech Akur8, which is revolutionising insurance pricing with Transparent AI. We caught up with her to find out why the industry is her happy place- and why technology is the key to scaling in the space.
Who was your childhood hero and why?

I can't really say that I had a childhood hero. But since joining Akur8, I've taken a liking to Batman because of The Actuary character. In one of the comics, Penguin (the villain) meets The Actuary, an interesting character who counts cards – which is the only legal way to beat a casino. This extra perceptive actuary tells Penguin that Batman foils criminals only at night! Using this key observation, The Actuary recommends that Penguin order a hit at a big gardening expo in the middle of the day. It's a fun story, and, at Akur8, we love actuaries – they're superheroes who dedicate their skills to assessing and managing risks, a noble and highly valuable role!

What's the best piece of advice you ever received?

"There's no such thing as adults", meaning that when you have to make a decision, there's not going to be an expert or know-it-all in the room to rely on, who will know for sure what to do or where to go. You ultimately make your decisions following your best judgment and gut feeling and manage the consequences the best you can. This was true in my previous roles, but even more so as the COO of a fast-growing, ever-changing insurtech where you have to adapt and adjust constantly, under ever-changing circumstances and featuring many unknowns in the equation.

Akur8 has grown from under 10 to over 100 employees in less than two years; from one to five offices; from 0 to 45 clients; and from only a handful to 700 users. There was no user manual to build all that, and we've been adapting as a team to scale as a company for our employees, and as a business solution for our clients.

What was the last book you read - and how long ago did you read it?

Becoming by Michelle Obama. It's actually not the last one I've read, but it made an impression on several levels – including how, at the end of the day, your personal and professional selves are one and the same. You bring your personal self to your job everyday; it is a major building block of your professionalism, achievements, and drive for results, often weighing more in the balance than all the qualifications you have accumulated.

Name one piece of technology you couldn't live without and why?

Audiobooks! I love listening to audiobooks, especially ones read by the author. It's really immersive and inspiring to hear the author's voice, and it's so easy and adjusted to all circumstances: while driving, traveling, commuting, running, etc. I can 'read' way more books now that I can 'listen' to them!

Who do you look up to in terms of leadership and mentorship?

I don't have a single role model. I have worked with and read books written by inspiring people, whether in terms of management, business vision, leadership, emotional intelligence, or inclusivity. I mostly believe in adapting to every situation, mix, and matching approaches.

What's the biggest challenge/advantage you've encountered to date in the insurtech industry?

The biggest challenge is definitely to increase the pace at which the insurance industry is changing! The industry is undergoing a profound transformation, both externally – from a B2C standpoint – and internally – B2B. Akur8 is fully focused on the B2B side of things.

Akur8 automates insurers' pricing process through transparent machine learning, increasing speed and performance to deliver immediate business impact, without compromising on auditability and compliance. Although tech-savvy insurers, new entrants and insurtechs are fully embracing advanced analytics to boost their processes, some insurers are not yet fully feeling a sense of urgency. But market pressure is a reality and things are moving!

Describe yourself in three words

Reliable. Driven. Enthusiast
What's new on the horizon for your company – what can we look forward to seeing as the year continues to unfold?
Our ambition is to become the world leader in end-to-end insurance pricing in the non-life space. Our current priorities are:
To accelerate Akur8's international expansion, especially in the American and Asian markets. We already have several clients in these regions but will accelerate our growth in 2022 to take advantage of the growth dynamics and size of these markets
To continue expanding our product suite to cover the full insurance pricing value chain, from risk modelling to rate deployment
What inspires you in the industry today?
Insurtechs are changing the way insurance has been done for the past few decades. It is very exciting to be an element of change within that dynamic. There has especially been a real shift in applying AI, from experimental data labs to leveraging AI in production.
We have witnessed it first-hand. Looking at the pricing process itself, Blackbox AI was a real blocker as going into production with black box models is not only unacceptable to regulators in most geographies, but it also exposes insurers to potential adverse selection effects. The advent of transparent ML – spearheaded by Akur8, as we are patenting our algorithms – has lifted that blocker, allowing insurers to put models generated with Akur8 to go into production safely.
We are seeing the momentum grow as insurance carriers embrace the power of data and analytics across their internal processes on a new level, to deliver the reactivity and transparency that customers are now demanding at scale.