Why insurers are struggling to go carbon neutral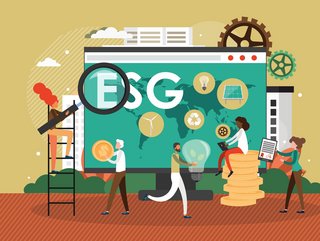 Rory Yates, ESG Expert and Head of Strategy, EMEA, and Asia Pac at EIS Group, discusses why insurers are struggling to create sustainable businesses
According to AON's "2021 Weather, Climate and Catastrophe Insight" report, economic losses attributable to weather and climate-related events totalled US$329bn last year, making it the third costliest. Combine their risk exposure with the global economy, and carbon neutrality is now a defining force in the insurance industry.
In addition to external factors, it is also incumbent on insurers to make their businesses more sustainable and chart their path to net zero. But this is no easy task. For outside observers, insurance businesses likely look like relatively simple single entities that assess risk, offer a premium, and provide compensation should the worse happen.
In truth, they are large and complex organizations with massive office footprints, distributed services, and workforces. People don't see the hidden complexity of vast and intricate networks of employees, partners, vendors, and supply chains that operate around distribution and claims processes.
The Net Zero Challenge
Globally, as much as 6% of carbon emissions are driven by energy consumption for technology, according to the World Economic Forum, and insurers' reliance on transportation and technology can mean the difference between a significant positive or negative impact on their carbon footprint.
To become more carbon neutral, ambitious insurers will increasingly need to engage with partners who have achieved net zero status. Further, they will need to reduce or eliminate the costs and emissions related to onsite inspections and adjusters.
Insurers must now rely on IoT devices and mobile phone apps to initiate the first notice of loss, manage claims processes, and accelerate them with data. Additionally, brokers and agents must use digital technologies to avoid driving to your home or business to discuss your insurance needs. This will, in turn, create a massive influx of new data that legacy systems will struggle to manage. To make sense of the data flooding in, insurers must transition to open, highly-available enterprise insurance platforms.
It's why cloud-native architectures will soon come to predominate enterprise insurance systems. They are far more energy efficient than their on-premises modern legacy counterparts, and those "lifted and shifted" into the cloud.
Salesforce offers an interesting comparison. A salesforce.com transaction is, on average, 95% more carbon efficient than when processed in an on-premises deployment, according to "Salesforce.Com And The Environment: Reducing Carbon Emissions in the Cloud."
Cloud-native systems also offer additional benefits over on-premises solutions. They scale to support remote access and provide increased security. They take updates more readily, adding stability, functionality, and further process efficiencies. In addition, digitalization and digital-first customer experiences enable insurers to achieve "paperless," reducing their carbon footprint and improving the customer experience.
While insurers are trending this way, many remain tied to "modern-legacy systems" that limit insurers' abilities to achieve these future-focused goals.
Data access, Integration, and Analysis
As it becomes more challenging to underwrite profitably amidst the impact of climate change, insurers are struggling to take on the risks and associated economic burden. To do so, they will need to take a more direct role in managing and preventing risk using data.
This concept has been discussed as a transformation driver since 2012 when the United Nations created an industry initiative setting out the Principles for Sustainable Insurance. "The purpose of the PSI Initiative is to better understand, prevent and reduce environmental, social and governance risks, and better manage opportunities to provide quality and reliable risk protection," the UN said.
Managing risk will require insurers to work with satellites, drones, and other "new" data providers to predict flood, fire, and other risks and prevent or reduce the impact on people and property. We'll also see insurers acting as data service providers to help farmers better understand their options and adapt to climate change.
In addition, insurers are developing new and more sophisticated predictive models to better prevent or reduce risks to people and property. A good example is Swiss Re CatNet, an online natural hazard atlas for efficient, accurate underwriting, risk management, and prevention models.
To be leveraged effectively, these new data sources must couple with insurance core systems across the insurance life cycle to proactively communicate with those under threat, service those impacted, and leverage the knowledge gained through those experiences to mitigate damage in the future. Unlike modern legacy systems, with their closed and monolithic architectures, this is an area where cloud-native architectures and coretech software take these capabilities out of the theoretical and place them in the hands of ambitious insurers.
Cloud-native systems combined with artificial intelligence, machine learning, and micro-services-based architectures are the engines that drive this change. They deliver the raw computing power necessary to create and run analytics against massive data sets, manage an avalanche of claims processes on demand, and then scale back down to contain costs.
Charting a Path Towards a More Sustainable Economy
There is another avenue for insurers to exploit. By exploring their broader influence on driving net zero, insurers also have the financial power to move markets. Already, a growing number have expressed clear plans to divest from businesses without net zero goals.
"We have hundreds of billions of pounds of assets under management; we have a huge opportunity to influence where we invest," said Amanda Blanc, CEO of Aviva, in an interview with PwC. "At the beginning of last year, we spoke to the top 30 carbon emitters in our equity portfolio and said to them, 'you have three years to sort yourself out and come up with a transition plan; otherwise, we will be disinvesting'."
And she is no outlier. The Net-Zero Insurance Alliance is a group of more than 29 (re)insurers representing more than 14% of world premium volume globally committed to decarbonising their underwriting portfolios by setting science-based intermediate targets and annually reporting on their progress.
"As risk managers, insurers and investors, the insurance industry has an important role in the transition to a net-zero global economy," according to the organization's website. "The NZIA is a member-led group that supports its members as they work towards decarbonising their underwriting portfolios by individually setting science-based intermediate targets and reporting on their progress annually. The Alliance will also advocate for and engage in governmental policies for a science-based and socially just transition of economic sectors to net-zero."
Given the view of CEOs like Amanda Blanc and those of the Net-Zero Insurance Alliance, we can expect this to be exponential in significance and action. While many insurers will struggle, limited by legacy systems and thinking, others will find their aspirations coinciding with the availability of cloud-native coretech systems and see carbon-neutral as an achievable goal.


About the author: Rory Yates has more than 26 years of business leadership experience spanning client, agency, consultancy, start-up, and private equity roles. As EIS' Global SVP of Strategy, Rory helps insurers achieve their transformation goals and evolve toward ecosystem-based futures via insurance core systems transformation, including truly personalized engagement, taking innovation from concept to market quickly, and growing efficiently.