wefox announces AC Milan official insurance partnership deal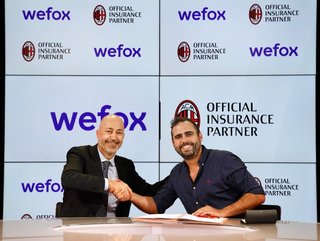 From left to right: Ivan Gazidis, CEO, AC Milan and Julian Teicke, CEO and Founder, wefox.
wefox's collaboration with AC Milan is yet another boost for the scaling insurtech's global growth strategy as insurtech launches in italy's marketplace
The Berlin-headquartered insurtech wefox has been named by football giants AC Milan as the clubs' official insurance partner.
Wefox is Europe's fastest-growing insurtech company, and joined the Rossoneri family as a Premium Partner and Official Insurance Partner after launching in Italy and consolidating its global presence.
Launched in 2015, wefox has disrupted the insurance industry through the widespread use of digital technology and cover accessibility. In 2021, the company became a unicorn with a US$3bn valuation. It also held its IPO, and made every employee a shareholder to the tune of $5,000 worth of company shares. Another huge milestone for wefox last year was its US$600mn funding round – the largest ever globally for an insurtech to date.
Global arena positioning for wefox
While the move is another big bonus for wefox, it's also an important deal for AC Milan. This is because it highlights the growth of an iconic Club and the appeal of a brand with over 500 million fans across the globe.
AC Milan is a club with a legendary heritage, and its leaders say, is now sharing the positive values and emotions of sport while wefox provides a path of innovation and safety.
Wefox is also the iconic club's first-ever Official Back-of-Shirt Partner to join the Rossoneri's roster of Premium Partners.

Insurtech Wefox and AC Milan's partnership deal
According to reports, as part of the agreement the wefox logo will be featured on the back of the men's team playing kit, starting from the Serie A clash between AC Milan and Udinese. The wefox logo will then be visible in all Serie A and Coppa Italia games as well as in all friendlies.
The collaboration is also part of wefox's march across Europe as it continuously expands its brand and marketplaces. wefox also recently officially expanded into Italy, and, say executives, will be launching its innovative insurance products in the marketplace next month. The partnership represents the union of two industry leaders, game-changers in their respective sectors, outlining a vision of the future based on shared values, such as innovation, integrity and inclusion.
wefox taking insurtech to global sports fans through AC Milan
Speaking about the partnership. Julian Teicke, founder and CEO at wefox explained, "As a football fan, it is incredibly exciting to be here today with the AC Milan team. From today we've not only got the backs of the AC Milan players but together, we've got the backs of the millions of AC Milan fans around the world. We'll help to keep the players and fans safe – whether they are playing out on the field or buying motor insurance. We will provide them with insurance that is simple, easy, and fit for purpose.
"It's a great honour to stand here, shoulder to shoulder with AC Milan CEO Ivan Gazidis and Chief Revenue Officer Casper Stylsvig and we are looking forward to great success for everyone over the years ahead".
AC Milan Chief Revenue Officer Casper Stylsvig added, "We are delighted to welcome wefox into our exclusive family of Premium Partners. Having the wefox logo incorporated into our iconic red and black jersey gives us great pride. While the logo on our shirt will certainly be the most tangible aspect of this partnership, we want this moment to be the beginning of an exciting journey for both brands and our fans across the globe."