Lukango CEO on bringing insurance to microbusinesses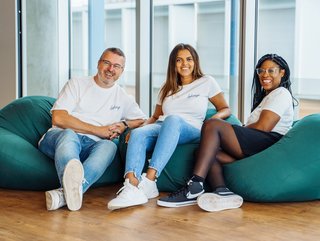 Lukango CEO, Joanne Safo, tells us why she got into insurance, and how the microbusinesses sector has become her passion
Joanne Safo is the CEO and Co-founder of Lukango, the London-based startup that is providing new solutions and products to microbusinesses. Formerly a founding team member for Munich Re's Digital Partners business, she and her fellow co-founders, Mark Dennis and Selina Bilton are, bring with them decades of experience to the insurtech. We caught up with Safo to find out why she is passionate about insurance - and what Lukango is bringing to the microservices space.
What drew you to insurtech - is there a story there?
Insurance and the protection it provides for the things we love such as cars, homes, and personal items are important to us all and the science of insurance has always fascinated me. I spent the last five years of my career journey driving the build and launch of insurtechs. I got the bug and decided it was time to build one myself.
You've chosen to focus on microbusiness - what is that - and just how strong is the market demand?
A microbusiness is one that operates on a very small scale. These are the side hustlers, the sole traders, the entrepreneurs and the limited company owners with only a couple of employees. We are proud to support microbusinesses of all types and stages, from individual professionals to those at fledgling beginnings along their start-up journey to mighty growth organisations. These are the inspired people who often go underserved in the insurance space because individual premiums are so low and they are difficult to reach.
Demand is high, and we see big search volumes, but penetration is low - due in part to the lack of purpose-built solutions. We believe there is a substantial gap in the market for a specialist, focused brand to better collect this microbusiness traffic.
What differentiates Lukango from other service providers in the marketplace?
Everything we do is centered around a customer obsession. This translates into a hyper-focus on the customer - from the language we use to demystify insurance to our product design and our CX.
We also have a very narrow focus on microbusinesses and underserved business segments. By going deep rather than wide, we can truly understand the needs of our customers and design products and experiences that are uniquely positioned to work for them.
Finally, our "Flex" product utilises data to price our products more accurately, putting business owners in control of how little or how much protection they have and when that protection needs to be in place.
Has the current economic climate increased the need for microbusiness to obtain insurance? If so, why?
Micro businesses have a really good understanding of the products or services they create and sell the benefits to their customers, but their cash flow can be limited. Insurance is often one of the business expenses that gets overlooked even though it can be the key to businesses' survival during tough economic conditions.
Micro businesses suffered the most during the two years of pandemic-related losses and are now facing further economic stress given the current climate, this in turn leads to a greater need to obtain insurance as they have fewer resources to self-manage any financial downturns.
How do you see diversity developing within the insurance space? Are we seeing more women and minority groups getting involved?
One of the biggest changes I have seen is the willingness to talk about the lack of diversity in our industry and for companies to not just have it on their strategic agenda but also do something about it.
We are building a truly diverse community of Lukango-ers and partners who have the collective goal of shaking up this industry for the better. Whilst there is still a lot to be done, shining a light on the topic and more frequent and open conversations has no doubt correlated to the increase in the number of women and people with diverse ethnic backgrounds in senior and strategic positions across the industry.
What has been the result of that additional interest?
This lack of seeing someone who looks like me as an aspirational figurehead has inspired me to be vocal about why it is important to see more black and brown women leading insurance businesses. This is what eventually became my personal motivation for starting Lukango. I know I am just one of many women and people of colour who feel now more than ever there is space for us to effect change.
Funding is a challenging space right now - how are you and your team tackling this?
Investors are definitely being more selective about where they place money and there is increased scrutiny on financial projections. This just gives us an opportunity to think differently about our business model and there is still money out there for high-quality startups.
We believe in order to be successful Lukango needs to keep our burn rate lean, hit all our milestones, set realistic valuation targets and most importantly build a business that stands out from the crowd.
What can we expect from Lukango going forward?
We believe in championing underserved microbusinesses and protecting the things they care about the most so they can be free to dream big - this ethos will always be at the heart of everything we do in the future.
Expect the rollout of our products to a wider set of micro business communities and further innovation of our "Flex" product into a full usage-based offering.
What inspires you in insurtech today?
Two things - The emphasis insurtechs place on putting customers at the heart of what they do and seeing and meeting more insurtech founders who look like me - both things have been missing from our industry for far too long.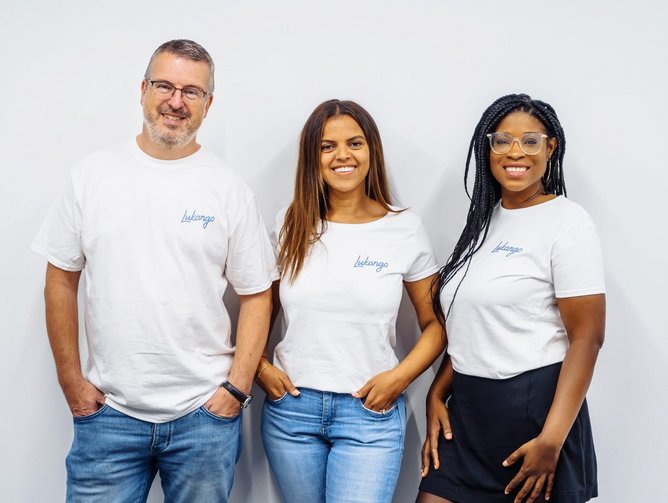 Lukango co-founders. Joanne Safo (centre)