Insurtech Superscript raises US$54.5mn in Series B round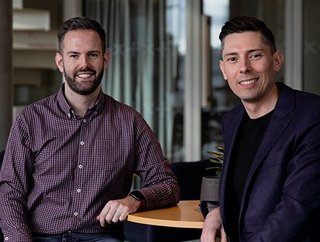 Cameron Shearer, (right) CEO of Superscript
Insurtech Supercript has raised US$54.5mn in its latest funding round, to expand offerings to SME and high-growth tech companies
The UK-based insurtech Superscript, a digital-first insurance provider to small businesses and high-growth tech companies, has completed a $54mn Series B funding round to help fund its growth strategy.

According to reports, the round was led by existing investor BHL UK, owner of Comparethemarket, with participation from new investor and Fortune 500 insurer The Hartford. Other existing investors, including Concentric, also took part.

Superscript, which was launched in 2015, in covers both simple and complex risks through a highly personalised experience and deep level of customer engagement. This is enabled through its proprietary triaging technology and unique multi-carrier model, which gives it access to insurer capacity across broad markets and regions.

The insurtech provides modern businesses with complex risks, flexible and tailored coverage through the advisory and broking service, known as SuperscriptQ. Less complex businesses, meanwhile, can obtain coverage in a matter of minutes through the online platform.

A strong market position for Superscript

Da6ya shows that5 Superscript has seen strong growth since its Series A, delivering more than a fivefold increase in its customers base and securing major partners such as Amazon Business and Virgin Money Bank.

The startup became the first UK insurtech to land a Lloyd's of London broker license in 2020, and launched the first Lloyd's-backed product for digital asset businesses last year. Superscript also opened an office in Rotterdam to support growth plans across Europe.

The Series B capital will, say Superscript's leaders, be used to develop further the insurtech's underwriting and broking capabilities, enhanced by machine learning; as well as to grow its range of dynamic insurance products and services for international distribution. There will also be a focus on building upon its existing embedded partnership capabilities.

Superscript top for investors in challenging climate

Speaking about the latest funding round, Cameron Shearer, CEO and co-founder of Superscript, explained, "In the context of a challenging macroeconomic environment and shift in global investor appetites, this funding round represents a huge vote of confidence in what we're building at Superscript. The flexibility, customisation and affordability we offer put us in a unique position to meet the insurance requirements of small businesses during turbulent times, as they navigate economic challenges this year.

"Our investors' international presence will help us grow in the future, as we continue our mission to be the global leader in SME insurance."

Meanwhile, Stephanie Bush, head of Small Commercial and Personal Lines at The Hartford, said: "The global small business economy represents a huge, yet untapped opportunity for the insurance industry. The Hartford's Small Commercial business is a market leader in the US. Superscript, an emerging leader in small-business insurance in the UK and Europe, shares the belief that ease, accuracy, and consistency are necessary components of a winning small-business carrier."

She added, "Superscript finds that most newly incorporated small businesses' first insurance touchpoint is online, so its customer-centric approach and machine-learning powered underwriting insights puts it in a strong position to penetrate this market successfully."