India's Insurance Industry is Growing at CAGR 9.9%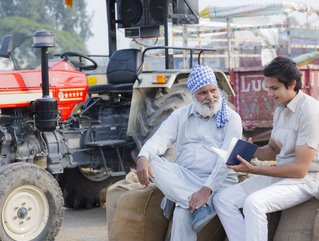 New report by GlobalData has revealed the latest projections for the insurance industry, which have doubled since last year
A new report by the think tank GlobalData, has revealed that India's insurance industry is growing at a CAFR of 9.9%
The figure is almost double the growth rate of 2021, which saw India's insurance marketplace expand by 5% - its slowest growth for the past decade.
The new predictions suggest the impact the pandemic had on India's insurance industry is now receding as companies embrace digital transformation and insurtech unicorns flourish in the country's burgeoning mobile-ready marketplace.
India insurance sectors recover growth following pandemic
According to reports, the general insurance industry is projected to grow from US$29.39bn in 2021 to $41.78bn in 2026, in terms of gross written premiums (GWP), GlobalData forecasts. The slow growth of motor and property insurance lines due to the COVID-19 pandemic negatively impacted the general insurance industry in India in 2021.
India's growing insurance sectors
According to GlobalData's findings, the marketplace growth has been shared across several key sectors. They are:
Personal accident and health (PA&H) insurance: This accounted for 33.8% of general insurance GWP in 2021. It grew by 14.0% in 2021 due to a surge in demand for health insurance policies following the COVID-19 pandemic. The PA&H segment is predicted to expand at a CAGR of 11.7% over 2021-26.
Motor insurance: This sector accounted for 33.3% of GWP in 2021. It registered a slow expansion of 2.7% as a result of lower vehicle sales following the economic slowdown and shortage of automobile chips globally. "The motor insurance segment is expected to recover in 2022 and grow by 8.8%, in-line with recovery in automobile sales," GlobalData stated.
Property insurance: This sector is driven by demand from residential and commercial segments as well as the government's core aims on infrastructure development. According to the Ministry of Statistics and Programme Implementation, the construction sector is expected to grow by 10.7% in 2022. This will support property insurance growth at a CAGR of 9.7% over 2021-26.
Marine, aviation and transit (MAT): According to GlobalData's findings, Miscellaneous, Liability and Financial Lines insurance accounted for the remaining 7.5% share in 2021.
Speaking about the report, Shabbir Ansari, Senior Insurance Analyst at GlobalData, said, "General insurance industry in India is poised for a strong recovery in 2022, driven by increase in awareness and demand for health insurance and an economic recovery, which has helped automobiles and property demand reach its pre-pandemic levels."
He added, "India's general insurance penetration of 0.9% in 2021 is very low compared to the top five countries in the region - South Korea (5.1%), Australia (3.5%), New Zealand (2.1%), Japan (1.8%) and Hong Kong (1.6%). As a result, there are ample opportunities for growth and expansion in the Indian general insurance industry."