Gigable Launches Paid Leave Cover for UK Gig Workers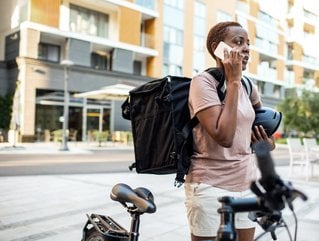 Gigable has partnered with Collective Benefit provide leave cover for freelancers who now make up 10% of the UK's workforce
The first equitable gig economy marketplace, Gigable, has joined forces with Europe's Collective Benefit, Europe's leading insurance and benefits platform, to provide paid leave cover for workers in the gig economy.
The move has been orchestrated to bridge the gap between employment and independent working and help freelance staff maintain some financial stability if they require time off work.
The collaboration between Gigable and Collective Benefit will be the first to offer cover across both the UK and Ireland as it continues to consolidate its food delivery business and create in-roads to the ultra-fast grocery delivery service.
Gigable's decentralised gig economy marketplace app connects businesses and drivers and enables them to post and accept gigs, communicate, invoice, and be paid. While well-known gig economy apps provide drivers with ad hoc work, the portal's main differentiator is that it provides its delivery driver community with full shifts, giving them more confidence to work independently.
Currently, it has 34,000 members across the UK and Ireland. High-profile customers include Subway, Tribal Burger, Greens Pizza, The Patate, Pizzabaker, Los Carnales, and Regency.
Employment leave for the gig economy
According to reports, Gigable drivers who complete a minimum of 15 gigs in a month can now access the paid leave benefit, which covers sickness, injury, as well as family or compassionate leave. Prior to this, Gigable drivers already had access to a wellness suite of benefits, also provided by Collective Benefit. These include digital GP services, mental health support, as well as financial advice, and everyday savings on food, fuel, and more.
The simplified process provided by Collective Benefit's market-leading claims experience enables drivers to make a claim in just a few taps on the Gigable app. The claims balance is paid within five days of approval being given.
The move follows on from Gigable's recent release of its new app feature that encourages better pay and conditions for gig workers. The "Effective Hourly Pay Indicator" now allows Gigable customers to see how much they are paying drivers in comparison to the living wage and allows them to 'top-up' this rate in order to compete for food delivery drivers, which in turn ensures better pay for drivers.
Personal injury in the gig economy
Furthermore, a recent Collective Benefits survey revealed that 46% of platform economy workers say that they have suffered a physical injury while at work in the last twelve months, with injuries ranging from cuts and bruises to broken bones. Out of 59% of their sample who had been injured, 85% were unable to work for an average of five weeks.
Speaking about the new strategic partnership, CEO & Founder of Gigable, John Ryan, explained, "We are very proud to partner with Collective Benefits to offer paid leave. We want to ensure that gig workers are supported in their choice to be independent and to help more people take the leap. Gigable is here to build an equitable gig economy community, so it's vital that workers are not simply treated as commodities but to support them when we can, such as during illness or family bereavement."
He concluded, "Our partnership with Collective Benefits is helping Gigable achieve our core purpose - to humanise the gig economy. We're thrilled to provide this suite of cover, which is actually more substantial than what is currently offered to many traditional employees".

CEO of Collective Benefits, Anthony Beilin, added, "Working in the gig economy is becoming a hugely popular option because of the flexibility it provides. We've proved that it's possible not only to enjoy the flexibility that's so important to workers but also to have access to the protections and benefits so greatly needed and deserved. It is important to recognise that the self-employed shouldn't have to choose between flexible work and the financial, physical, and mental support they deserve."