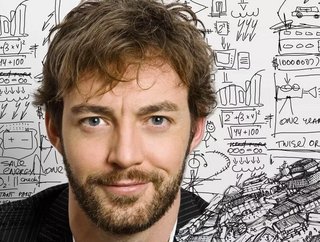 As the co-founder of two successful insurtechs, By Miles and By Bits, Rimmer suports innovation, football and family, not necessecarily in that order
Who was your childhood hero, and why?
Duncan Ferguson - Everton Forward. In the mid-nineties, I was a young teenager from Liverpool and an avid Everton fan. Everton was going through a tough time and in relegation scraps year on year. Duncan joined us from Rangers in 1994 and helped save the team from relegation that year and was instrumental in Everton winning the FA Cup the year later. 
He literally stood head and shoulders above anyone else on the pitch. He was brave, combative, an excellent footballer, but most of all, he was incredibly loyal. He was involved in many unsavoury incidents that rightly should be admonished for, but in my formative years, I learned from him that standing up for yourself and those around you, when others have their heads down, is the difference between passive failure and battling success.
What's the best piece of advice you ever received?
Far better it is to dare mighty things, to win glorious triumphs, even though checkered by failure, than to take rank with those poor spirits who neither enjoy much nor suffer much, because they live in the grey twilight that knows neither victory nor defeat - Theodore Roosevelt
Which activity are you most looking forward to doing when the pandemic is over?
Anything spontaneous. I lost count of the number of times I have had to tell my young son that we can't do something or go somewhere or see someone because of the 'bad cough', as he calls it. 
Is there a personal achievement from the past 12 months of which you are particularly proud?
I could talk about the growth of the company during very uncertain times or that we managed to raise capital. I could also talk about the family time I have been afforded and the better relationships and life balance that brings. However, I appreciate that it is all a little trite. So it has to be the office chilli plants. When we started By Miles, we bought 10 chilli plant seedlings. 
Over the last four years, they have gone through aphid infestations, under-watering, over-watering, being dropped, bashed, and bruised, and about a year ago, being left outside on a frost night. 
The last two of the plants came very close to dying, but they pulled through after I took them home with me during the first lockdown. They are now healthy and producing chillies again. 
A cutting even took, so there are three again now. They are sitting to the left of my monitor as I type this. They will be moving back to the office with me in a few weeks.
What inspires you in insurtech today?
The size of the industry, the pace of change, and scope of change. It is like standing at the base of a vast breaking wave. You can't run from it, so you either close your eyes and see where it deposits you, or you dive through it and try to ride it. 
In motor insurance, change is being driven by vehicle innovation and electrification, environmental responsibilities, legislative and regulatory diktats, connectivity and data, and consumer expectations. Any one of those is a massive opportunity. Insurtechs are tiny compared to incumbent insurers. 
Trying to go up against the multinational, billion-pound adversaries is exhilarating. All insurtechs, in their own way, are challenging and changing an industry. That is an indelible mark that will be left irrelevant to success.
"Standing up for yourself and those around you, when others have their heads down, is the difference between passive failure and a battling success"
"You either close your eyes and see where it deposits you, or you dive through it and try to ride it."