Devin Chawda, CEO of insurtech ARMD talks trade cover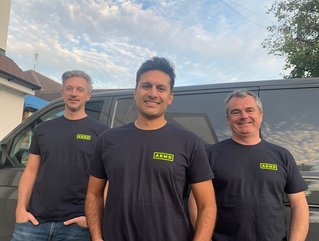 ARMD CEO and co-founder Devin Chawda (centre)
From security technology to embedded insurance solutions, Devin Chawda, CEO of ARMD, tells us what inspired him to launch a brand new insurtech in 2020
Demand from the marketplace is often the best indicator that a business idea will be successful. It was this driver that saw Devin Chawda, who originally founded a company in security equipment, turn his hand to the insurtech sector.
In 2020, he launched ARMD – a UK-based embedded insurance startup that has since raised US$540k in investment funding and looks set to transform the tool trade sector through its state-of-the-art inventory app and its swift claims settlement promise.
The move has been a sharp departure into the unknown for Chawda, who until recently had no industry knowledge of the insurance market. But it's also an area he has become passionate about, especially considering his previous links with the UK trade industry.
He explains, "I have a business technology background, and previously owned a company called Y-cam, which dealt in smart IoT, smart home cameras, and alarm systems. I built that company up over a period of just over 10 years quite organically from nothing and ultimately sold that in 2019 to ERA Home Security."
A gap in the market for trade insurance cover
It was from his experience in the security industry, dealing specifically with tradespeople and the problems they faced, that the idea for ARMD was formed. "We sold a lot of our products direct to consumers through the likes of Amazon and other retailers. But we then thought, why don't we sell through tradespeople? We'd developed our offering so it wasn't just cameras. It was full security solutions."
The Y-cam team regularly attended a number of security trade shows, but as they attempted to sell their services, visitors were far more interested in security products they could install in their vans to protect their tools. "And that's when we were first switched onto the idea and realised, actually, there's a real problem here," Chawda says.
After some research and focus group activity, the idea for an insurtech specifically geared towards the protection of trade equipment was formed. IoT devices would act as a security device, while a properly integrated platform could solve a huge $8.8bn problem in a broken marketplace.
ARMD launched to address marketplace demand
Without a background in insurance, developing the concept held some challenges. But as a consumer, Chawda knew the marketplace was ripe for disruption. "I hadn't had any experience other than as a consumer," he says. "But the main thing we're trying to really fix is the amount of downtime for business and reduce the risk for these guys."
Even the pandemic could not dampen the team's enthusiasm for the project which saw millions of businesses globally shut down. Instead, they used the time constructively to streamline and refine their solution concept. "We were essentially building the product during these last two years. So, not a lot of that has been time spent selling it. But that was an advantage because it allowed us to really focus on scoping the product and making sure we got the building right. Certainly, in the early part of the lockdown, many tradespeople weren't working, so we were able to get a lot of time from them to ask them questions and carry out research."
Market demand for trade equipment cover
Chawda and his team had struck upon a gap in the market that was crying out for cover and solutions. He says, "Tradespeople are often targeted by thieves because they carry expensive equipment in their vehicles. But until now, the insurance solutions open to them have been inadequate. For example, claims often get contested, and even if they get paid, the tradespeople may have to wait six weeks for that claim to be reimbursed. This is a nightmare for them because that means at that time, they can't work. And if they can't work, they can't earn."
Chawda's solution, by comparison, provides embedded tool insurance at the point of sale through ARMD's tool shop. Customers can also download and apply for cover via the insurtech's inventory app. Chawda says that future plans include being an embedded insurance provider at the point of sale for a wide range of trade equipment vendors. But currently, the fastest way to get customers protected has been to open the online tools shop which operates as one integrated solution.
"The real value is in getting tradesmen back up and running following a theft incident, and that's when insurance comes in," Chawda says.
Trade insurance trade settlement enhancement
Although ARMD is still very much in its infancy, the insurtech has already streamlined the settlements process considerably through their use of technology and the company's inventory app. This means customers can expect to be reimbursed within 72 hours of making a claim as opposed to six weeks. Therefore, tradespeople who are the victims of theft are able to restock their equipment in a much faster timeframe, thus reducing their downtime and resuming work faster.
However, Chawda believes ARMD will soon be able to offer a claims settlement process that is almost instantaneous for customers, which means reimbursement on the same day – or even within the hour.
Strategic partnerships and MGAs for ARMD
As a result of ARMD's fresh approach to the trade insurance problem, and following the recent Norton Rose Fulbright Insurathon win, several incumbents have shown an interest and the company is in negotiation with a number of leading players in the market that are keen to partner with them.
"We've had a number of interesting conversations actually off the back of intros from incumbents," Chawda says, adding that ARMD will be looking at operating as an MGA, with support from partner OneAdvent, once all its services are up and running and a suitable capacity provider can be found.
A busy year ahead for ARMD
With partnership interest in ARMD's solutions and more work to be done to further enhance the technology platform, the next year will be a vital one for the start-up. Chawda is an enthusiastic planner in terms of growth and strategy and has several avenues he wants to explore, to fill the protection gap for tradespeople underserved by the current market.
"We haven't launched the IoT part of our business plan yet. It's being tested at the moment and is in the prototype stage. However, we do currently offer third-party security devices that we sell as part of our bundles. The IoT part of our integrated solution will be launched later this year off the back of our recent fundraising success."
The ultimate aim is to introduce a flexible, itemised offering insurance product. Chawda adds, "We want to be really flexible in terms of being able to sell micro policies. As I say, at the moment it's the total sum insured in thousand-pound increments, but itemised tool insurance is our goal."