Leading in Insurtech Risk & Resilience, Albany Group's CEO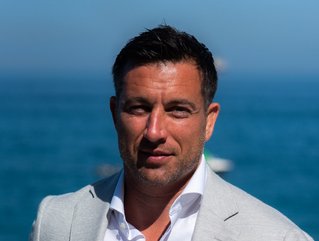 Stewart Griffith, the co-founder and CEO of Albany Group, talks to us about this battlefield to boardroom transition into the insurtech space
Stewart Griffiths is co-founder and CEO of London-based Insurtech, Albany Group, which specialises in risk and intelligence software and serves some of the biggest names in insurance and financial services. A former Royal Marine, Griffiths founded Albany Group with his fellow marine, and current COO, Adam Richards in 2007.

Today, Albany Group provides all-in-one risk and intelligence software to some of the insurance industries biggest names, including Hiscox and QBE. We caught up with Griffiths to find out how his unusual journey to insurtech unfolded - and what the industry means to him

You've had an unorthodox journey into insurtech - can you tell us about how that unfolded?
After meeting in the Royal Marines, my friend, and now COO, Adam Richards and I moved into physical investigations work and due diligence. We realised that technology could optimise many of the tasks that were usually performed manually, so we created a piece of software- ORA- that could automatically capture online data on people and companies.
One of our first clients, Hiscox, was having issues with control and governance of one of their third-party administrators, and we decided to start looking into how our tool could help overcome those issues.
This was how we got our start in the formal regtech space, as we saw the potential for technologies like ours to revolutionise supplier risk management, automate due diligence, and optimise compliance processes. We brought all of these tools into our Conect system, which is the product we continue to refine to this day.
Who was your childhood hero, and why?
Jonny Wilkinson - I've always loved Rugby, and the way he dedicated himself to master his craft is impressive even to this day.
What's the best piece of advice you've received?
Pain is only temporary, and failure is actually a good thing. The first makes sure I keep going and don't give up, and the second ensures I continue to learn and improve.
What was the last book you read - and how long ago did you read it?
I'm currently reading The Changing World Order by Ray Dalio. I'm quite a big reader and I particularly like books that can put complex realities of how the world really works into layman's terms, and that focus on how political, technological, and economic changes impact our daily lives.
Name one piece of technology you couldn't live without and tell us why
Apple Airpod pros. I travel a lot, so being able to block out the noise and listen to audiobooks and music is important to me.
Who do you look up to in terms of leadership and mentorship?
Richard Palmer and Oliver Lee. Richard took me under his wing when I left the Royal Marines- he gave me a job, got me on my feet and showed me how the city works. Oliver Lee was my former commanding officer in the Royal Marines. I look up to him and still reach out to him for leadership advice all the time. I'm not sure either are aware they have been mentors to be honest!
What's the biggest challenge/advantage you've encountered to date in the insurtech industry?
The challenge is being, and remaining relevant, and actually delivering something that offers genuine change. It's a competitive and fast-moving space, so you have to move fast and really make sure that your product is customised to your client's real-world needs.
The biggest advantage we've experienced is the huge appetite to adopt new technology, particularly in the insurance sector. Industries which might have been historically slower to change are recognising the enormous competitive and operational benefits that insurtech and regtech can bring, and it's up to us to build the products which address their needs.
Describe yourself in three words.
Relaxed, motivated and ambitious.
What's new on the horizon for your company - what can we look forward to seeing as the year unfolds?
We're adding new features to Conect all the time based on client feedback, and are working to further ensure it has the flexibility to slot into different workflows and sectors. For example, we have just implemented audit functionality based on a request from a client.
Looking forward, we are also working on a new 'Marketplace for Insurance', leveraging the data captured in Conect. I can't say too much yet- but think LinkedIn solely for the insurance industry, with instant onboarding and streamlined, centralised due diligence.
What inspires you in insurtech today?
We are very lucky to work with some very forward thinking clients that give us the opportunity to make changes and innovate. It feels like a time of real change in the industry, and that's exciting to be a part of. It's a credit to the sector that people in these large organisations have the appetite to try new tech, adopt it and make positive change.