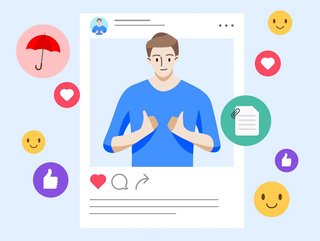 Together, our top 10 insurtech influencers are followed by more than half a million people.
Ever wondered who to follow on LinkedIn? We've scoured the professional networking site to find the most followed insurtech influencers out there
They say it's not what you know, but who – and sometimes, in the close-knit world of insurtech, that can definitely feel true. Networking is an important part of staying connected, meeting new people, and being inspired by new ideas. What better place to do that than on LinkedIn? We've scoured the professional networking site for the top influencers talking about insurance and insurtech, and ranked them by number of followers.
Followers: 28K
Daniel Schreiber has been CEO and Chairman of New York-based digital insurer Lemonade since co-founding the company with Shai Wininger (15.4K if you're wondering) in June 2015. Before conceiving Lemonade – which gives unused premiums to charity and has donated over US$4mn to good causes so far – Schreiber was President at a wireless charging solutions company and spent eight years as SVP of Marketing and VP of Marketing and Business Development at SanDisk. He was previously a commercial lawyer at Tel Aviv-based law firm Herzog, Fox & Neeman as well as at one time being a member of the Israeli Bar Association.
Followers: 28.8K
The self-billed 'insurtech queen', Sabine VanderLinden is the CEO and Managing Partner of Alchemy Crew, which delivers commercialisation blueprints for the insurance sector and financial services institutions. A seasoned executive with a track record of creating sustainable impact for growth ventures and corporates, VanderLinden is also a board member or ambassador for multiple different brands and side-projects as well as being a visiting professor at Bayes Business School at City University London. She will also be a speaker at FinTech LIVE VIrtual New York on Wednesday 3 May 2023.
Followers: 28.9K
For nearly 14 years, Mike Quindazzi has been a Managing Director for PwC in Florida where he leads the US Alliances and Digital Services business. Passionate about helping insurance businesses find a competitive edge, he previously served as a business development lead at BearingPoint and KPMG Consulting. Nearly 30,000 followers are subscribed to Quindazzi's feed, which covers topics as extensive as AI, big data, future of work, cybersecurity and digital transformation.
Followers: 29.7K
Hugh Terry is the Singapore-based and much-followed CEO and Founder of The Digital Insurer – an online platform that features a community of more than 40,000 industry professionals, as well as a comprehensive knowledge base of digital insurance materials. Terry started the website as a personal blog in 2012 but it has since grown to become one of the world's foremost insurtech communities – and for his part, Hugh Terry boasts close to 30,000 followers on his personal LinkedIn.
Followers: 30.1K
Dr Robin Kiera describes himself as the founder of consulting company and marketing agency Digitalscouting.de by day and LinkedIn influencer-come-TikTok star by night. He has a captive audience of more than 30,000 on the professional networking site alone and talks regularly at industry events, hosts insurtech and insurance-related live shows and podcasts, and also works directly with brands to help them better understand their customers. He was previously a communications consultant for Allianz and CPO for a German fintech app.
Followers: 31.1K
Rosaline Chow Koo is the Singapore-based founder and CEO of CXA Group, which optimises employers' healthcare and insurance spend. She started the company using her own money, as well as a US$5mn loan, after becoming frustrated with her previous employer's reluctance to invest in Asia. Now CXA has over 1mn users in 20 countries across Asia, and is being white-labelled as the SME bancassurance SAAS platform. An experienced executive, Chow Koo has amassed over 31,000 followers on LinkedIn.
Followers: 33.6K
Jean-Charles Samuelian-Werve is CEO and Co-Founder of French health insurtech Alan. He is passionate about company culture and improving the health insurance sector in France – both topics on which he has written published books. Prior to Alan, Samuelian-Werve co-founded Expliseat, which revolutionised aircraft seating for economy class. He holds an MSc in Engineering from Ecole des Ponts Paristech, an MBA from Collège des Ingénieurs, and is a member of the French Institute of Actuaries.
Followers: 36.6K
Julian Teicke was already a serial entrepreneur by the time he co-founded German insurtech unicorn Wefox with Fabian Wesemann in 2015. He co-founded DeinDeal, which is still to this day one of the largest ecommerce platforms in Switzerland, before selling the company to media company Ringier. Teicke also founded The Delta, a venture studio based in Berlin that has more than 50 startups to its portfolio. He still leads Wefox as its CEO, and last July the firm announced a bumper $400mn Series D round that raised its valuation to $4.5bn.
Followers: 147.5K
Chris Cheatham is currently Vice President of Strategic Partnerships for Steadily – a US provider of landlord insurance for rental properties – where he is, according to his LinkedIn profile, "making insurtech things happen". His prior experience includes eight years as CEO of RiskGenius as well as a decade as Managing Partner of his own consultancy company. An expert in property insurance, Cheatham holds a degree from the University of Texas School of Law and previously worked as an attorney. He is the second most followed insurtech influencer on this list, with nearly 150,000 followers.
Followers: 180K
Matteo Carbone is a prolific user of LinkedIn, where he talks about such topics as IoT, insurance, insurtech innovation, and telematics. The founder and director of an international insurance think tank focused on IoT insurance, Carbone has a rich and varied professional background: he has been a board member, a university lecturer, an ambassador for the Italian insurtech association, a consultant, and a Principal at Bain. This vast experience translates into a sizeable following on the professional networking site; he is the most followed influencer on this list with 180,000 different followers.