German insurtech Omni:us secures €12mn Series A extension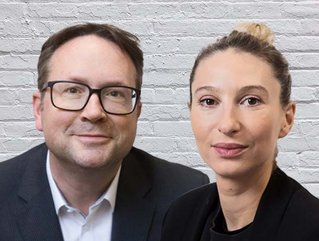 Omni:us founders Martin Micko (left) and Sofie Quidenus-Wahlforss.
German insurtech Omni:us has raised a further €12mn for its end-to-end insurance claims automation, including new investor Württembergische Versicherung
German insurtech Omni:us, which provides intelligent end-to-end insurance claims automation, has raised a further €12mn as part of an extension to its Series A funding round.

The fresh capital injection sees W&W subsidiary Württembergische Versicherung join as an investor for the first time. It is the third tranche of Series A funding that Omni:us has raised, the first dating as far back as October 2018, and brings the total amount of funding raised by the company across all three tranches to almost €45mn.

Omni:us will use the latest funding to invest further in its end-to-end claims automation technology and expand its presence in Europe and the UK. It has already grown out its team with a number of high-profile executive appointments in the last two years – including Chris Andrew as VP Sales EMEA West, and Stephan Schnitzler as VP of Product.
Omni:us attracting new investors after 'exceptional year'

"This Series A+ builds on an exceptional year for Omni:us," says Co-Founder and CCO Martin Micko. "We were able to add leading insurance companies to our customer base in Europe, launch key feature enhancements to our Artificial Intelligence-as-a-Service (AIaaS) offering – the omni:us Digital Claims Adjuster – and at the same time strengthen our team with outstanding talent. We are particularly excited about the participation of W&W subsidiary Württembergische Versicherung and the strong commitment of our existing investors."
The tie-up is being presented as a means to W&W digitising its entire group, and for Omni:us to benefit from "years of successful and comprehensive market expertise". Both firms are seeking to further deepen their cooperation, they say in a statement.
Sofie Quidenus-Wahlforss, CEO & Co-Founder of Omni:us, continues: "The subsidiaries of W&W stand for stability and success for over 100 years. Over the past year of our collaboration, we were able to gain impressive insights into the strong foundation they have built over the last century. With their constant openness to innovate and overwhelming reliability, they have proven to be an exceptional partner. This is an excellent prerequisite for an effective and successful path ahead to help shape the future of insurance together. We are very much looking forward to learning from, and working with, them!"