French insurtech Orus raises €5mn for SME insurance platform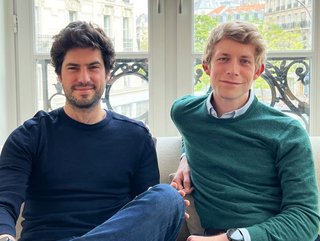 Orus was founded by Côme Dartiguenave (left), Tom Le Bras (right) and Samuel Rossille.
French insurtech Orus has raised €5mn in seed funding as it strives to provide SMEs with a new way to access insurance, starting with restaurateurs.
French insurtech Orus has raised €5mn in a seed funding round led by Partech Partners, Frst and Portage Ventures.
The Paris-based startup, founded in 2021, is seeking to revolutionise the way European SMEs interact with insurance. It combines simple and affordable tailored insurance coverage with strong UX, prevention and assistance. As such, the company is building a new proposition for each of its target sectors and is starting by targeting caterers and restaurateurs.

Customers can use Orus' insurance to cover themselves against damage, public liability and operating losses with the application process taking place in a matter of minutes and completely online.
Orus hopes to address the significant gap that exists within the European insurance space, as smaller businesses are underserved and often struggle to find the right insurance products for them. The insurtech estimates that the professional insurance market is worth €70bn but is in dire need of digitisation, leading to more than 20mn businesses lacking cover.
Insurance to protect the 'lifeblood of our economy'
Orus Co-founder and CEO Côme Dartiguenave says: "Insurance is a social good to protect businesses. SMEs are the lifeblood of our economy and must be able to access the most suitable offer for their needs. Our mission is to create simple, efficient and affordable insurance to allow professionals to focus on what matters."
Alison Imbert, Principal at Partech Partners, continues: "Orus is tackling the professional insurance market, which is more complex than others due to the multitude of insurance products, but also generates more value. Customers are more loyal and willing to pay a fair price for an efficient and transparent service. It has assembled an exceptional and complementary team to build a competitive product that is tailored to the many needs of its customers."
A lack of options for smaller firms has been mooted as a problem point before – particularly in cyber insurance, an area that SMEs are more likely to neglect as budgets come under increasing pressure. Research from GlobalData found that SMEs are at risk of being priced out of cyber insurance coverage – and another Paris-based startup, Stoïk, recently raised €11mn in funding for its broker platform which gives SMEs access to cyber coverage.