Faye raises $10mn for whole-trip travel insurance offering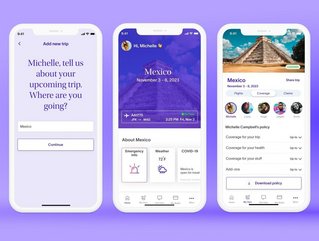 Faye's aim is to provide everything travellers need to protect their trip in one app.
Digital travel insurance startup Faye has raised US$10mn in Series A funding to help fuel growth of its whole-trip travel insurance product
Digital travel insurance startup Faye has raised US$10mn in Series A funding for its whole-trip travel insurance, led by Munich Re Ventures and existing investors Viola Ventures and F2 Venture Capital.
Faye's travel insurance app provides everything that travellers need to protect their trip – including cover for flights, hotels, luggage, health insurance and pet insurance. It has recently branched out into specialist travel insurance lines including extreme sports cover and vacation rental damage protection.
The startup expects to quadruple revenues this year, having generated millions in premiums during its first year in the market. The latest funding will be used to fuel growth, develop new insurance offerings and support scale in a number of ways – including automation and forging new partnerships with brands and distribution partners.
As well as the lead investors, additional investors include Menora Tech as well as the former CEO of global travel insurance at Allianz.
'Building an insurance offering travellers want to use'
Faye Co-Founder & CEO Elad Schaffer says: "Faye fundamentally views travel insurance differently. Until Faye, travel insurance was often thought of as a reimbursement service. Faye's approach combines travel insurance with real-time assistance, trip alerts, a 24/7 concierge and even financial support. Our role is to help ensure that you have a smooth adventure that's memorable for the right reasons. We've built an offering that travellers will want to use for life, so bringing Faye along is just as obvious as bringing your passport. This approach is working: we continue to see rapid growth in travellers using Faye, and coming back for more – month over month."
The company is anticipating continued strong demand in the coming months ahead of a busy summer season, with travel disruption such as crowded airports and staff shortages continuing to hamper travellers' trips.
Sidra Ahmed, Investment Director at Munich Re Ventures, adds: "With the end-consumer in mind, Faye provides transparent, digitally integrated comprehensive coverage, and a real-time approach to managing the many potential hiccups that can happen on a trip. Faye has successfully married the worlds of travel, insurtech and fintech to seamlessly enable consumers to protect their travel investments. We are excited to join the Faye team on their journey."