Embedded insurtech Qover launches 24-hour claims payment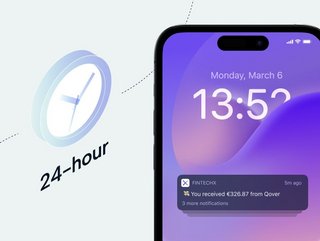 Valid claims can be settled inside 24 hours, Qover claims.
Embedded insurance company Qover has launched a 24-hour claims payment feature available through its API, which will save consumers from waiting to be paid
Embedded insurance provider Qover has launched a 24-hour claims payment feature that it says will "provide policyholders with payments faster than ever".
The Brussels-based insurtech is rolling out the feature in 32 European countries through a single API integration, allowing insurers to streamline the claims process and improve the customer experience for claimants. The express payment feature will ensure that eligible claims are processed and paid out within just 24 hours.
It is the latest positive move from the embedded insurance firm founded in 2016, which, just last month, was announcing a new partnership with business finance solution Qonto to provide embedded card insurance for Qonto's customers.
Speaking this week with InsurTech Digital, the CEO of Qover, Quentin Colmant, believes that embedded insurance offerings are primed for continued growth. "The name of the game is and will remain users, and when done right, insurance is a powerful driver of the user behaviours that enable businesses to stay ahead of the game," Colmant said.
New feature 'lets people get on with their lives'
Speaking about the launch of the company's latest 24-hour claims payment feature, Colmant continues: "Consumer behaviours have changed and people expect hyperconnected, seamless experiences. And this is also true for insurance.
"Our new 24-hour claims payment feature is a great example of how we're leveraging advanced technology to better serve our partners and their customers. We understand that people want to be able to get back to their lives as quickly as possible, and this new feature is a major step forward in making that happen."
Claims payment speed is an important factor affecting customer satisfaction, according to research from Accenture. According to their report that examined the impact of AI on insurance claims and underwriting, published last year, the number of respondents who report feeling underwhelmed by their insurer's handling of a claim increases as the amount of time it takes gets longer. For customers whose claim took over six month, more than 40% of policyholders reported feeling only 'a little satisfied', 'somewhat satisfied' or 'not satisfied at all'.
Darcy Dague, Managing Director – Insurance for Accenture in North America, says: "This insight is particularly important for insurers, since claims dissatisfaction is a major factor in driving policyholders to switch to another company, with 74% of dissatisfied customers either saying they did change providers (26%) or are considering it (48%)."