Automation in insurance starts with better use of data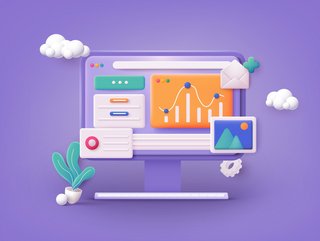 With the help of digital transformation specialists, we explore automation in the insurance industry and how it all begins with smarter use of data.
Despite being seen as a slow-mover, the insurance industry has embraced automation in the last few years, with benefits felt on both sides of the transaction process. Gone are the days when insurers could afford to manually onboard new customers, check their documentation, provide them with quotes for new policies and review each claim as it comes in.
Automation allows companies to speed up required background checks such as anti-money laundering; improve the accuracy and reduce time taken for claims to be processed; build a clearer, holistic view of the risk associated with any single policy; and deliver a cleaner, more instant experience to the consumer regardless of the touchpoint.
Jeffrey Skelton, MD Europe for LexisNexis Risk Solutions, explains: "The insurance sector has made great advances in automation, driven by customer demand for a swifter, more streamlined experience from quote through to claim. The pandemic certainly accelerated this – for example, in lockdown, digitised proof of no claims discounts became essential, as did virtual claims handling. The ease with which insurance providers can ingest data into their quoting, pricing and claims processes is key. You need the right data at your fingertips to make accurate decisions quickly."
There will be no let-up in digital acceleration as we emerge from the pandemic. According to research from Insider Intelligence, the tech spend of property and casualty (P&C) insurers plummeted in recent years, with insurers having to absorb Covid-related disruption to their revenues. But it will rebound over the next two years as insurers "strive to digitise their businesses and leverage emerging technologies to enhance their customer experience".
Better data, smarter devices
At the heart of this surge in automation will be a better use of data all round. That includes more data collected from both the customer and other insurance industry stakeholders, but also a shrewder approach to the data that insurers already hold.
As McKinsey puts it, "insurance will shift from its current state of 'detect and repair' to 'predict and prevent', transforming every aspect of the industry in the process". One exciting way this can be done is through greater utilisation of connected devices.
"Connected devices offer huge potential for automation," Skelton says. "Smart devices can already detect the escape of water to help identify a problem before it becomes a huge loss. Crash notifications from the connected car will become a key element of first notification of loss (FNOL), enabling insurance providers to see granular data on the circumstances of the claim. All this should have the effect of reducing risk and speeding up claim settlements."
Mike Chiaramonte, North America insurance lead for digital consultancy Publicis Sapient, adds another example: "Within claims processing, automation can allow for a seamless transition from FNOL to the pricing of the claim and, finally, to the close-out of the claim. For example, a cargo shipping container may now contain a connected device that can alert the insurer when the temperature of the container has dropped and the goods are at risk of loss. This automation is driven by the interconnectedness of devices and platforms used by customers.
"Within underwriting and risk assessment, the use of predictive modelling can identify, validate and prepare critical underwriting variables. The risk assessment process then becomes an iterative, continually refreshed, process as the external and internal datasets used can create a dynamic risk assessment environment."
Will automation lead to fewer jobs?
As insurers face the prospect of handling more data, automation – particularly robotic process automation (RPA) – will become crucial. Automation has allowed many claims processes to become more efficient, from the use of images for validating claims to automated settlements that don't require a human claims handler.
"There is always a balance to be achieved between automation and ensuring the human touch is not lost when it's most needed by the customer," says LexisNexis' Jeffrey Skelton. "The obvious area to consider for greater automation is claims, because this is the shop window for the market and ultimately why we buy insurance. Insurance providers are always looking at ways that processes could be made smoother and less prone to friction without opening up the market to fraud.
"We believe there is a very real opportunity for greater automation in claims if insurance providers used data enrichment to validate the claimant's details, understand their claims history and answer some of the questions they may ask at first notification of loss – such as information about the home or the car. That means the claims handler's time could be focused on obtaining some of the details that could only come direct from the claimant and on ensuring they receive the support they need at a stressful time."
Publicis Sapient's Mike Chiaramonte continues: "Automation can hopefully drive the alleviation of operational inefficiencies currently present within insurance. In order to alleviate these operational inefficiencies, processes such as AI and RPA will need to be fully integrated into the operations. For example, a claims adjustor can focus their efforts on high-complexity claims as the more simplistic claims will be handled by automation. Another example may be that policies can be dynamically priced so that, instead of being renewed every 6 months, they can be renewed every 6 hours."
Will this mean that process automation inevitably leads to redundancies? Not necessarily. Instead, it will free employees from repetitive manual tasks and allow them to concentrate on parts of the insurance lifecycle that still require a human touch.
"Insurance company employees are very good at the job they do today, but they will need to be even better at this job in the future," says Chiaramonte. "As automation removes the redundancies of repeatable tasks, individuals will need to be able to focus on complex tasks that require their deep expertise as well as empathy and understanding. Automation will augment the role of the individual rather than replace the role of the individual."