AI-powered insurtech COVU launches with US$10mn seed funding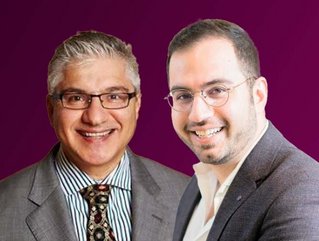 COVU's founders include ex-wefox boss Tasos Chatzimichailidis (left) and Ali Safavi.
COVU, an AI-powered digital insurtech from the US aimed at insurance agencies, has launched with US$10mn of seed funding led by ManchesterStory Group.
US insurtech COVU has raised US$10mn in seed funding led by ManchesterStory Group, allowing it to launch its AI-enabled digital platform aimed at insurance agencies.
The fledgling startup will use the money to build and scale the COVU platform towards its first major milestone, which is an ambitious US$1bn of insurance premium under contract. The California-based outfit is led by insurance industry veterans Ali Safavi and Tasos Chatzimichailidis. Safavi, a former Head of Insurtech at accelerator Plug and Play, and Chatzimichailidis, the erstwhile CEO of wefox, are joined by co-founders Amir Kargar and Amin Zarshenas.
As well as ManchesterStory Group, the US$10mn raise is propped up by a number of angel and VC investors from across the insurance and technology industries.
Freeing up insurance agents to focus on what's important
COVU says it's on a mission is to help independent insurance agents and carriers better manage risk and make smarter insurance decisions through AI-driven policy recommendations, business services and sales support. The digital platform takes ownership of front and back-office tasks, giving insurance agents time to focus on strengthening customer relationships, growing their business and embracing digital operations.
The startup claims a majority of independent insurance agencies spend around 40% of total revenue, and agents spend 70% of time, on back-office and administrative tasks.
Ali Safavi, Co-founder and CEO of COVU, says: "By listening to the market, we discovered that most agencies do not want to be acquired in order to grow their business, but they need professional help modernising and expanding. What they want is an all-in-one platform and a partner to help them solve inherent challenges such as poor productivity, digitalisation of the customer experience and an inability to scale."
Matt Kinley, Founding Partner at ManchesterStory Group, adds: "Insurance customer expectations evolve every year, and many independent agencies are worried they don't have the time and resources to modernise and grow independently. We believe strongly in the COVU business model because the market has indicated that this is how insurance agents want to work and this is the type of support they need."