AI insurtech Bdeo raises new funds for international growth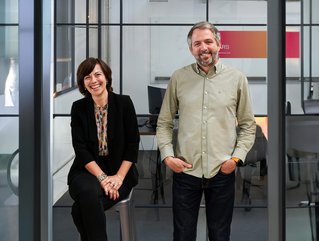 Bdeo COO Ruth Puente (left) and CEO Julio Pernía (right). Pernía says new funding in Bdeo has provided "a significant boost of confidence"
Bdeo, the insurtech providing visual AI for the insurance industry, has raised €7.5m (US$8.2m) in new funding to accelerate its international expansion
Fast-growing insurtech Bdeo has generated €7.5m (US$8.2m) in new funding, which it intends to use to accelerate its international expansion and consolidate its position in Europe and LatAm.

New investors in Bdeo include Armilar, Hollard, The Centre for the Development of Industrial Technology (CDTI), and Íope Ventures, a new investment arm of Wayra and Telefónica Seguros. Additional funds were provided by existing investors K Fund and Blackfin.
Bdeo funding follows seal of excellence
Funding in Bdeo follows its receipt of the European Innovation Council's 'Seal of Excellence', an award granted to just 160 companies each year.
The award was granted to Bdeo for the success of its AI-powered Visual Intelligence solution, which remotely assesses damage to vehicles and homes, accelerating insurance claims and underwriting processes.
Providing increased speed in the claims process for customers, investors are excited about the speed at which Bdeo's services can resolve claims for customers.
On receiving its latest funding, Bdeo CEO Julio Pernía says: "Based on the impressive results we have achieved and our capital efficiency given the challenging times we're living in, it is reassuring to receive this trust from investors.
"It is a significant boost of confidence for our team, and we are proud to continue working closely with the insurance sector and adapting to its needs and priorities, as we always have."
Bdeo boosts customer experience
Not only striving to boost the speed of a claims process for consumers, Pernía sees the future of the customer experience in the insurance industry as one completely free of phone calls.
In exclusive comments provided to InsurTech Digital, Pernía suggests "only 25% of insurance customers prefer to contact customer service by phone.
"The majority of consumers prefer to use a digital system, such as a chatbot, for basic customer service issues because of the convenience, accessibility, and personalisation these solutions offer."
For Pernía, a streamlined customer service approach alongside AI visual technology to accelerate claims processing will help insurers "to decrease their loss ratios while increasing customer satisfaction".
He continues: "Particularly for underwriting and claims, there are key challenges related to the heterogeneous nature of the assets (such as vehicles and properties) and the scenarios being inspected, feeding a complex pipeline of external parties and systems."
This is why Bdeo's easy-to-integrate platform, will "immediately impact the insurer's bottom line" in a positive way, according to João Dias, Principal at lead investor Armilar.