Opinion: Insurtechs, customer service and the human touch
By Andi Dominguez, Quadient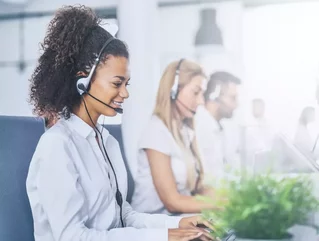 Andi Dominguez discusses how insurers can strike the balance between technology and the human touch in an increasingly automated and AI-led space
Insurance is a relationship-based business, built on a foundation of long-term trust that customers' holdings, holidays, and homes are protected by their insurer. Maintaining a healthy relationship with policyholders is critical, with almost a third (28%) citing a poor customer experience as the primary reason for leaving their insurer. However, getting the customer experience right can be a fine balance between continual technological improvement and not losing the human touch.
Digitally transforming to keep up with customers' needs is a critical part of being able to respond to customer demands, and when done right, can help insurers forge meaningful connections with their policyholders. Insurance organisations are looking closely at different areas across the business where complexity in their products and processes adds friction to the customer journey, and how technology can be used to eliminate or minimise it. After all, a digitalised version of a process that doesn't bring value to the customer doesn't automatically improve customer experience, it just brings the same pain points to policyholders in a new way.
Every customer's experience is different
In the past few decades, the insurance industry has gone from being mostly manual and process-focused, to somewhat digitised, to fully digitalised and focussed on products and services. More recently, the industry has shifted focus, putting the customer at the centre of their product innovation and business, to remain competitive. With a laser focus on digital transformation in some areas of the business, many insurers can now offer policyholders the ability to submit a claim without speaking to anyone, for example. But is that what they really want? Every customer?
Not really. Each customer is different, so insurers must offer different channels of communication to fit all preferences. While 87% of insurers said they will invest in digital solutions in 2021, it's important they remember that the human component of customer experience simply can't be replaced or replicated. And executives agree, transformation efforts should be laser-focused on making the entire organisation more agile, digital, and customer-centric.
Insurers are looking for ways to balance their use of technology and the human touch; considering where one can augment the other to offer a customer experience that meets different needs. And customer communications are the very core of customer experience: the email received, the contract sent for digital signing, the speed at which a reminder can be received as an SMS or push notification, the flexibility of completing an entire request through a mobile app or on a desktop.
Technology for technology's sake doesn't enable unique customer experiences. Insurers also need insight into the breaking points within the customers journey, and the ability to quickly make changes to rectify them (whether it's amending a process, improving touchpoints, adding value where gaps exists or other). By assessing individual customer journeys, insurers can uncover unexpected and unknown areas of friction in the customer experience, analyse how these affect business outcomes and satisfaction scores, and prioritise areas for improvement across the business. This helps to elevate communications from single transactional interactions to a strategic tool that can make (or break) competitive brand advantage.
Identify, rectify, communicate and transform
Within every challenge lies opportunity – and for insurers this means looking strategically at their communications and interactions to transform the customer experience at scale. This may entail eliminating some steps in common process, or adding in a new touchpoint to avoid customer drop-offs. Each improved interaction will move insurers closer to higher consumer satisfaction scores, brand recognition, and better business growth.
With so much information at consumer fingertips, the value insurers provide has shifted from protective and responsive, to proactive and preventative. In essence, a modern insurer is a trusted partners and advisor for its policyholders.
Overhauling the experience in other areas, such as underwriting which is often overlooked because the department is not in direct contact with the customer, can also improve the customer experience. While the underwriting process itself is not visible to policyholders, the end decisions have a huge impact on customers. Insurers can consider a new approach, that doesn't just focus on automation or digitisation, but that includes the customer at the centre of its transformation.
Ultimately, infusing digital interactions with empathy and value all comes down to understanding what the customers want and when. Then, insurers can provide a seamless, valuable, and customer-centric service.
Modernising the old to bring in the new
Omnichannel capabilities and more personalised customer offerings are the future of insurance. However, before making changes within the line of business, insurers must take the time to fully understand what exactly contributes to customer pain points – after all, their experience is the brand experience. Is it speed and easy access to desired information? Is it a complex process to complete a simple task? What options do customers want, based on their personal circumstances?
Answering all these questions requires careful analysis and of course, lots of empathy. After all, machines will never truly understand the frustration of a poor customer experience as well as a person. The most successful insurers are the ones on top of consumer preference; those that focus first on providing an overall improved, pain-free customer experience, and have put significant effort in employing a business model that drives people, processes, and technology to that end.
About the author: Andi Dominguez is Principal of Global Insurance at Quadient. She has 15 years of experience in marketing, data, and the customer experience, and her mantra is, "Delivering more value to more people, more often."