Hastings Direct adopts what3words location technology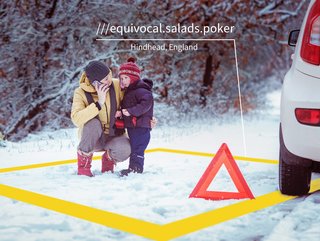 In an industry first, motor insurance customers with Hastings Direct can now use their what3words address to give their location when they make a claim
One of the UK's leading providers of home, bike, and car insurance, Hastings Direct, has adopted innovative addressing technology, what3words, for motor customers in an industry first.
The majority of breakdowns and accidents happen on roads without identifiable landmarks or an easy street address. This means that exact locations can be incredibly hard to describe and locate. This partnership means that Hastings Direct customers will now be able to provide their what3words address so they can share precisely where their incident or accident took place.
Marc Walden-Lowe, Hastings Direct Claims Transformation Director said: "We're thrilled that through this partnership with what3words, Hastings Direct are now able to help customers to tell us precisely where they are, no matter whether it's the side of a motorway or the middle of a country lane, allowing us to offer them an even more straightforward service when they need us most."
Providing a more accurate location
Co-founded in London in 2013 by Chris Sheldrick, what3words has divided the globe into 3m x 3m squares and given each one a unique combination of three words: a what3words address.
Describing exactly where an accident or breakdown has happened is a big challenge for the motor insurance world. A street address isn't accurate enough - especially when drivers find themselves on the side of a road with no visible landmarks or named streets nearby. Street addresses are also full of duplicates, for example, there are 49 Stanley Roads and 37 Victoria Roads in London alone.
what3words eliminates these issues. Every what3words address is unique, minimising errors and getting insurance providers to exactly where the breakdown or accident has taken place – whether it's the side of a motorway, a country lane or a remote village. By providing a what3words location, customers will now be able to add their three word address to their claims with Hastings Direct so they can share the precise location of an incident or accident.
Using technology for a more efficient claims process
An increasingly on-demand economy means that consumer expectations are rising, and businesses are under pressure to meet these demands. Efficient claim processes are now a rule rather than an exception.
Chris Sheldrick, CEO of what3words said: "Breakdowns and accidents often occur on the side of the road where there are typically no traditional street addresses or landmarks you can pass to your insurance provider. In an already stressful situation, the last thing you need is to be worrying about describing the location. Now, customers can simply note down the what3words address and let Hastings Direct do the work."
The free what3words app, available for iOS and Android, and the online map enable people to find, share and navigate to what3words addresses in 50 languages to date. Its partners include Mercedes-Benz, Triumph Motorcycles, Premier Inn, the AA and many emergency services across the world.
what3words has a team of over 100 people, across offices in the UK, USA, Germany, India and Mongolia. The company has raised over £100mn in capital from investors such as Intel, Aramex, Deutsche Bahn, Subaru and Sony Innovation Fund.