Reassured Life Insurance Launches Insurtech Digital Platform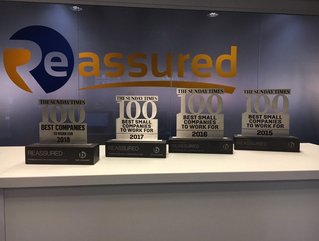 Reassured has announced the launch of its new digital platform offering new Life Insurance products for customers
One of the UK's leading life insurance providers, Reassured, has launched its new digital platform. The solution is offering customers the opportunity to directly purchase life insurance online, providing quick and easy access to financial protection.
Alongside the digital, mobile-ready products, Reassured offers Reassured Advice Limited, a service launched in 2021 that provides the full breadth of purchase routes for those seeking Protection, making the firm truly omnichannel.
Reassured digital partnership with The IDOL
Reassured's new service has been launched in collaboration with established financial technology firm solutions provider The IDOL, which currently boasts partnerships with six major insurers: Legal & General, Aviva, LV=, Zurich, AIG Life and Vitality Life.
The solution offers a genuine "buy now" process, based on a single underwriting question set and is fully customisable for use by partner firms on a white label basis and the platform has been created to give full flexibility to customers, with the option to either buy online or speak to a Reassured agent to assist with the purchase.
According to reports, Reassured agents are able to pick up an application at the precise point the customer left it, enabling frictionless and streamlined customer support and avoiding the frustrations caused by standalone technology.
Compared to similar life insurance comparison sites, Reassured's service provides the fastest customer journey from initial quote to full cover. Data shows that in the process of providing a fully underwritten comparison takes just 23 clicks, as opposed to upwards of 60 clicks offered by other marketplaces.
Reassured's solution is also easily scalable with the addition of further insurers and other forms of protection in the offing, including critical illness cover.
Reassured is committed to insurance technology solutions
The launch of the platform is being led by Simon Towndrow, the new Head of Product who joined Reassured from the Swedish BNPL giant Klarna earlier and marks Reassured commitment to the development of technology solutions within the insurance industry.
The service will be available for partners to adopt and offer to their customers on a white label basis, backed by Reassured offline assisted sales services.
Speaking about Phil Jeynes, Director of Corporate Strategy at Reassured, explained, "Rather than entrench ourselves in a "one size fits all" position based on our historic ways of working, we're proud to be expanding our proposition in order to offer even greater choice and coverage for customers seeking Protection.
"To launch a brand new, genuinely "buy now" digital platform with the immediate backing of the majority of the UK's largest insurers is yet another milestone in the ongoing development of our business.
"Crucially, we have not built our digital platform in isolation from our telephony proposition, meaning customers can seamlessly transition from on to offline should they need support, with none of the frustrations often associated with switching channels."